Read In:
7
minutes
Share the post "13 Best Rivers In Texas To Visit (Swim! + Relax)"
Texas is home to some of the country's most significant and impressive rivers and waterways. Some span thousands of miles across the country, home to dozens of unique freshwater fish and animals. Texas celebrates the power and beauty of these rivers by making them as safe, clean, and accessible to the public as possible.
Whether you're planning to swim, fish, or paddle upstream with your kayak, Texas's many rivers are great nature retreats. This list features some of the best rivers to visit in Texas for the whole family to enjoy.
Major rivers in Texas
The five main rivers in Texas include:
Rio Grande River (1,900 miles)
Red River (1,290 miles)
Brazos River (1,280 miles)
Pecos River (926 miles)
Canadian River (906 miles)
Number of rivers in Texas
Texas has some of the most plentiful river locations in the US. Across the state, there are approximately 3,700 streams that we know of and 15 major rivers. In total, these waterways measure over 191,000 mi.
13 Best Rivers to Fish, Kayak, and Swim in Texas
Your trip to Texas won't be complete if you don't visit at least one of these gorgeous rivers!
1. San Marcos River, San Marcos
Located in the heart of San Marcos, Texas, the San Marcos river in Rio Vista Park is a sight to behold. It offers picturesque spots to lounge, kayak, swim, eat, and sunbathe.
Further in the river, various wildlife species reside, some of which are near-extinct, like the Texas blind salamander and the San Marcos salamander.
After you've taken a dip in the river, you can use Rio Vista Park's many amenities. This includes basketball courts, tennis courts, pavilions, restrooms, hike/bike trails, and a city swimming pool.
2. Comal River, New Braunfels
Though mostly known for its massive waterparks, your visit to New Braunfels won't be complete without a trip to the Comal River. The Comal River is a charming spring-fed body of water that has captured the hearts of locals and tourists for generations.
It's praised for its calm waters, constant 72-degree water temperature, and excellent river levels for tubing and swimming. Plus, it's one of the cleanest rivers in Texas, if not the US!
3. Frio River, Uvalde County
Boasting some of Texas' most scenic mountain views, the 200-mile-long Frio Rover is a reprieve from the busier rivers in the heart of Texas. It's located in a remote setting, allowing you to enjoy the afternoon sun peacefully. Best of all, the water is deep and cool (hence the name "Frio," meaning cold in Spanish).
You'll also find a hidden swimming hole just one mile from Concan, located inside a massive 450-acre family ranch. The owners graciously accept visitors, but only 30 at a time. So no matter how famous, this hidden swimming hole will always be a peaceful sanctuary for you to visit.
4. South Llano River, Hill County
The South Llano River is located northwest of Austin, Texas, and spans approximately 105 miles long. It's a fantastic spot for fishing, as it offers excellent angling opportunities for catching channel catfish, largemouth bass, panfish, stocked rainbows, and Guadalupe bass, to name a few.
You also get to swim, canoe, kayak, and chill out near the sandy areas to cool down. The water flows clear, clean, cool, and can almost always be paddled except for low rainfall and drought.
5. Guadalupe River, Kerr County
Spanning across Kerr County to San Antonio Bay, the Guadalupe River is a popular spot for canoeing, swimming, kayaking, fly-fishing, rafting, and even tubing. There are several rental outfitters along the river, and you can also book a shuttle service on your way back.
Once you've gotten your fill of the Guadalupe waters, attend one of Guadalupe's many festivals. Festivals include the Wine and Sangria Fest, the Texas Clay Festival, the Comal Country Fair, and the Annual Crawfish Festival in April.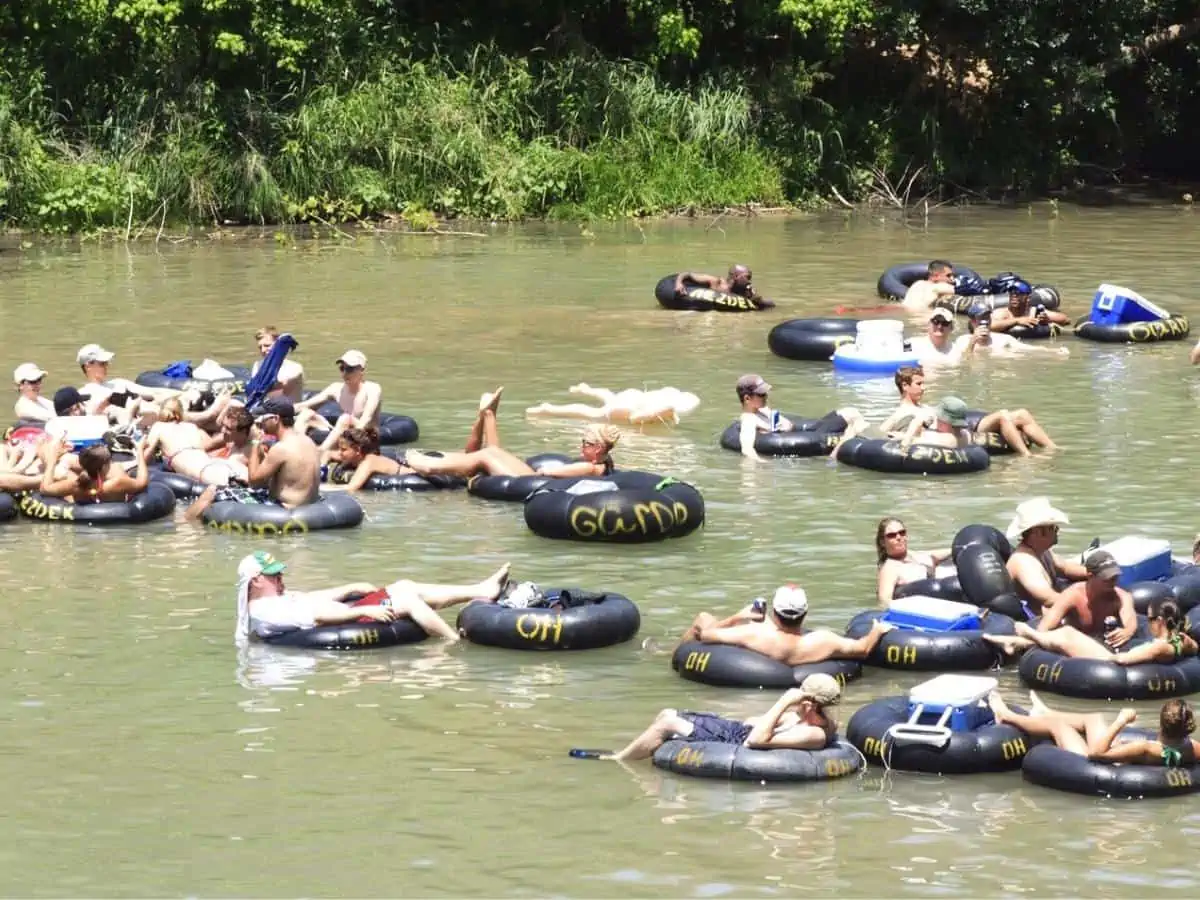 6. Schumacher Crossing, Hunt
The Schumacher Crossing is one of Hunt's most popular swimming holes. With crystal clear water, small waterfalls that flow into a large pond, and beautiful surrounding sights, the Schumacher Crossing is definitely worth the visit. Just be aware that there are no bathrooms in the area!
7. Trinity River, Montague County
Known for its plentiful salmon and steelhead fishery resources, the Trinity River is the largest, deepest, and least obstructed river in Texas. It offers various activities for tourists and locals to enjoy, including rafting, kayaking, and canoeing.
Visitors enjoy tubing events, live music, and food stands serving some of the city's best traditional recipes every summer.
8. San Antonio River, San Antonio
Named after St. Anthony of Padua, the San Antonio River spans 240 miles long and follows a southeastern path through the state. Though it's illegal to swim in some parts of the San Antonio River, San Antonio encourages exploration, kayaking, and fishing.
9. Brazos River, Western Texas
As the 11th longest river in the US, it's no surprise that the Brazos River is home to a diverse fish population. From largemouth to white bass to sunfish, there's a good number of species to catch, especially along the dams of the river forming Lake Whitney, Lake Granbury, and Possum Kingdom Lake.
If you're not too big on fishing, don't worry. Tubing is quite popular in Brazos River, particularly near Waco. Swimming is allowed, but be especially cautious in the river that winds through Fort Bend County. The currents can be extremely dangerous, and many drownings have been reported in the area.
10. Nueces River, Southern Texas
The Nueces River is one of Texas's cleanest and most aesthetically pleasing rivers. Stretching 315 miles long from the Edwards Plateau region of Texas, the Nueces flows southeast into the Gulf of Mexico.
The water is clear, cool, and sparking, making it a popular location for fishing, wildlife photography, camping, and swimming!
The local swimming hole, affectionately dubbed "Quince," is calm and manageable for its average water depth (15 in English). You can even scuba dive if you want!
11. Medina River, Medina Valley
They say good things come in small packages, and nothing describes that better than the Medina River! Though small and narrow, with an average width of approximately 30 to 40 feet, it's full of personality.
It contains crystal clear waters, scenic limestone outcroppings, and bald cypress-lined banks. You can swim, float, and enjoy BBQs along the river. You can rent tubes, kayaks, and swimming equipment from the Medina River Company.
12. Neches River, Van Zandt County
The Neches River flows through the Big Thicket National Preserve in Southeast Texas and meets up with the Sabine River. It's approximately 416 miles long, defining the boundaries of 14 counties across the US.
The Neches River is often referred to as The Last Wild River in east Texas. It's home to more than 47 mammals, 300 bird species, 200 tree species, and countless reptiles and amphibians. If not for swimming, the Neches River is a prime spot for birding, hunting, and enjoying everything nature offers.
In Neches River, public hunting is permitted for snipe, waterfowl, rail, and woodcock. Bring an up-to-date hunting permit if you're planning to hunt in Neches.
13. Sabine River, Big Sandy
The Sabine River is famous for discharging the largest volume of water in all of Texas. It drains an area of over 9,700 square miles, of which 7,400 square miles are in Texas, and 2,300 square miles are in Louisiana.
The Sabine River Authority of Texas has installed several recreational facilities around the area for swimming, picnicking, fishing, and boating. Just be mindful of the currents, as several people have drowned in the swimming spots of the Sabine River.
Texas Rivers FAQs
What's the largest river in Texas?
The largest and longest river in Texas is, hands down, the Rio Grande, which spans 1,896 miles long, of which 1,250 are in Texas. It begins in south-central Colorado and flows through New Mexico and Texas, emptying into the Gulf of Mexico. It's the 4th largest river in the country.
What's the cleanest river in Texas?
There's no real consensus on the cleanest river in Texas, but it's usually a tie with three: the San Marcos River, the Guadalupe River, and the Nueces River.
All three rivers feature sparkling waters that look transparent when diving in. Thanks to the Texas Commission on Environmental Quality (TCEQ) efforts, there's little to no trace of water pollution.
What's the deepest river in Texas?
According to the Texas State Historical Association (TSHA), the Trinity River is the deepest in Texas, measuring 52.6 feet. It's one of Texas's prime recreational dive and snorkel destinations. Because of its changing nature, visitors can dive into the exact location numerous times and have a different experience.  
References
Share the post "13 Best Rivers In Texas To Visit (Swim! + Relax)"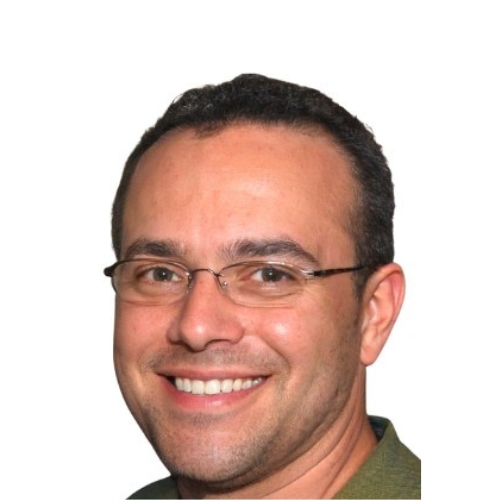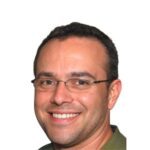 Christian Linden is a seasoned writer and contributor at Texas View, specializing in topics that resonate with the Texan community. With over a decade of experience in journalism, Christian brings a wealth of knowledge in local politics, culture, and lifestyle. He holds a Bachelor's degree in Communications from the University of Texas. When he's not writing, Christian enjoys spending weekends traveling across Texas with his family, exploring everything from bustling cities to serene landscapes.