Whether you are a Texas resident or visiting the Lone Star, you must check out the Renaissance Festival! Get ready to party with fairies, knights, and amazing mythical creatures in an unforgettable experience.
The Renaissance Festival Texas was founded in 1974 and is the nation's largest renaissance event. Each event is like an escape into a world of imagination, with themed weekends, performances, and delicious food. Do you want to find out more about the festival? Let's dive into the details right away!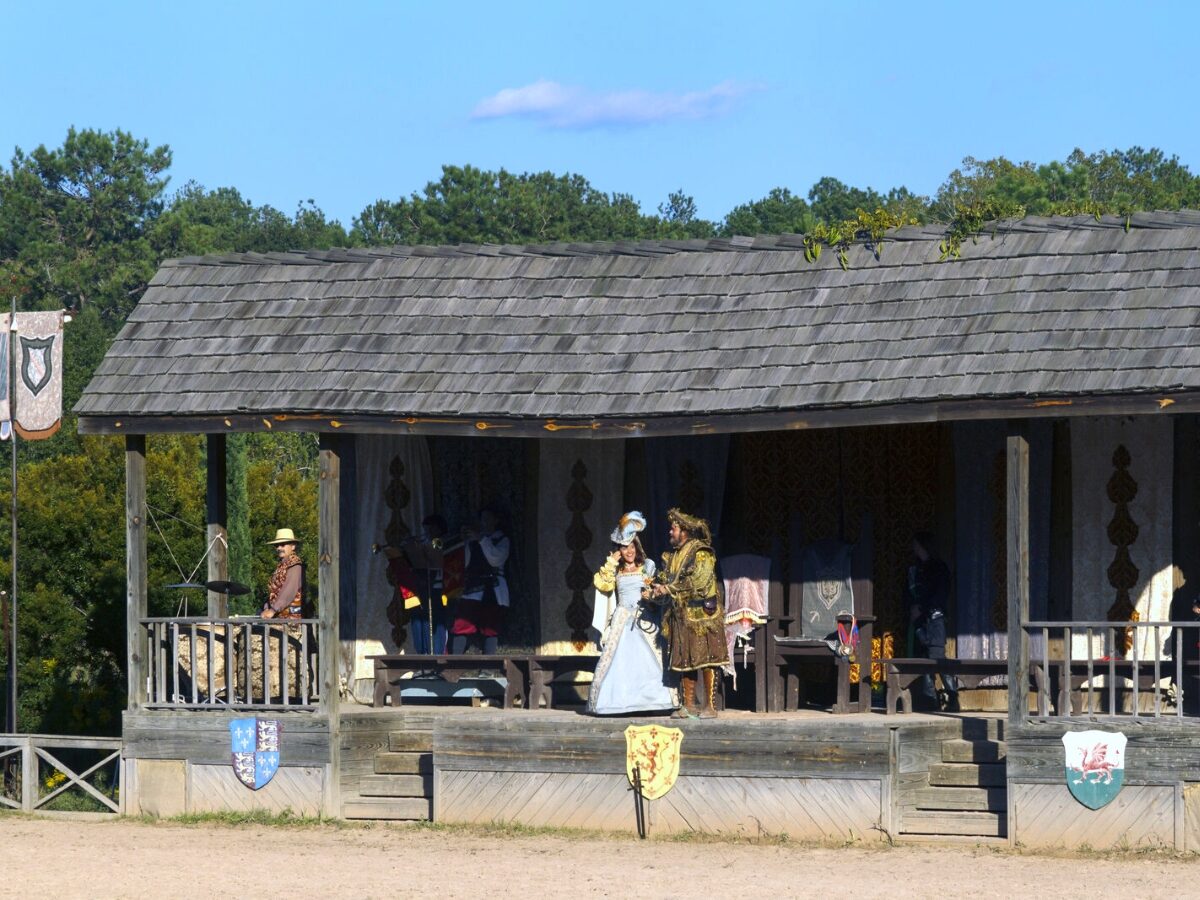 About Renaissance Festival Texas
The Renaissance Festival in Texas is a yearly event that has been growing since 1974 to become the biggest renaissance event in the country. There's something new just about every year.
There's a different theme every weekend. From pirate adventures to 1001 Dreams and Oktoberfest, you'll find something you love.
Facts About the Renaissance Festival Texas
Here are some interesting facts and information about the festival:
Estimated number of annual guests: more than 500,000 guests
Size: 55 acres of land
Camping facilities size: more than 200 acres
On-site shops: 400 shop
Stages: 21 stage
What's the Renaissance Festival Texas Known For?
The Renaissance festival is known for taking all its guests to an era of fantasy and adventure. The 70-acre festival is full of manicured gardens and fun activities to immerse the guests in a magical world. It's hard to visit all the shops and join the activities even if you spend the entire day there.
Here are some of the best things that the festival is known for:
Eating contests: There's always an eating contest happening around. The contests follow the theme of the weekend.
Themed shops: There are more than 400 shops around the festival, where you can buy a lot of cool things. For instance, you can find books, leatherwork, jewelry, perfume, accessories, and many more!
Costumes: While it's not mandatory to wear costumes, most of the guests do. That makes it a more immersive experience. You'll also be surprised at how detailed the costumes are.
Fun for everyone: The festival is a fun experience for both adults and children. So, you can enjoy the experience with your family and friends.
Performances: Throughout the festival, many astounding performances take place at different stages and vendors. There's a huge variety, so you'll find something that you'll enjoy.
Where Is the Renaissance Festival?
The Renaissance festival takes place in Todd Mission, Texas. It's close to the great Houston, and you'll have no trouble reaching the festival. It's around 50 miles northwest of downtown Houston.
Here's the exact address of the festival: 21778 FM 1774, Todd Mission, TX 77363, USA.
Getting About Renaissance Festival Texas
You can reach the festival from Houston by taking the 249 until you reach the FM 1774/ Plantersville exit. Then, you'll need to head south on FM 1774 and drive around 6 miles to the entrance.
Thanks to Hwy 249, the festival is easy to reach, and the construction work is mostly done.
You can also take I-45 to Hwy 105 in Conroe. Then, you'll need to head west on 105 to FM 1774, Plantersville. After that, you can head south onto FM 1774.
It's worth mentioning that during the event, GPS services, like Google Maps and Apple Maps can suggest alternate routes due to traffic congestion. However, you might end up on a residential or a side road close to the event.
So, we highly recommend that you stick to the main route.
What to Do at Renaissance Festival Texas?
The Renaissance festival is full of fun activities. You can hardly run out of interesting things to do!
Performances
There are tons of performances that are always running all around the stages and restaurants. The music of various bands and singers will be all around you, while you enjoy the performers' stunts and acts.
The best thing about performers is that they love to interact with guests, especially children. So, it's fun for everybody.
Shopping
This festival is shopaholic's heaven! You can shop all day long, and it won't be enough to check all the shops. Almost all the shops are unique and have interesting items.
Eat and Drink
You can eat turkey legs all you want, but there's a big variety of other dishes from various vendors. When it comes to drinking, there are a lot of themed pubs that you'll enjoy.
The King's Feast
The King's Feast is one of the most iconic events at the festival that you can't miss out on. It's a two-hour dinner theater event filled with music, comedy, and good times. The six-course meal, as well as the drinks, are all delicious, and it's an overall unforgettable experience.
Games and Rides
There are many games that both adults and children can join. You can shoot bows and arrows, ride dragons, or join jumping games! On top of that, there are some elephants and camels that you and your children can ride.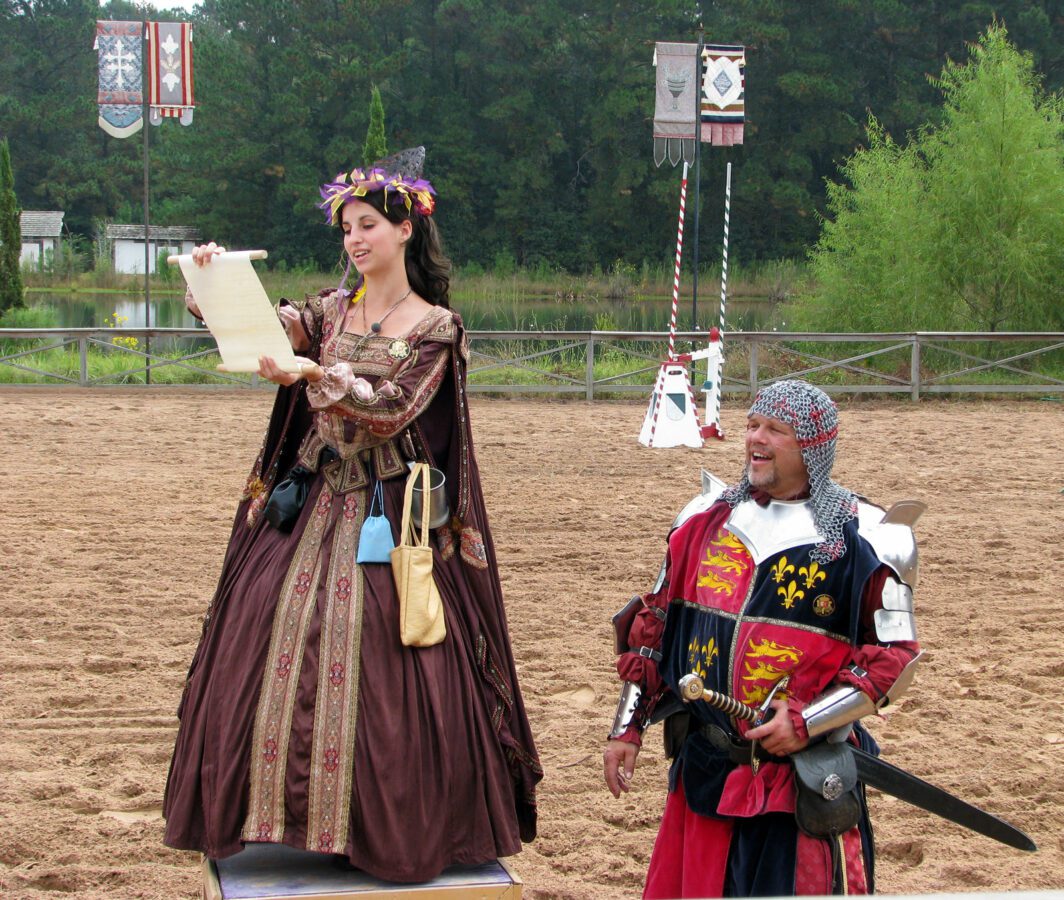 Where to Eat and Drink in Renaissance Festival Texas?
One of the best things about the festival is the huge variety of foods and drinks. Almost all vendors have bottled water, bottled iced tea, lemonade, and the signature King's Sodas. You can also find coffee, hot chocolate, cider, and adult beverages at many vendors.
When it comes to food, it can be hard to pick a place to eat with that number of options. You can find a big variety of snacks, like wings, cookies, and funnel cakes. If you're going for a big meal, here are some of the best places you need to check out:
The Greek Agora: The Greek-themed restaurant offers a lot of delicious meals, as well as entertainment.
Golden Dragon: From orange chicken to shrimp fried rice, the restaurant has a good variety of delicious meals. Make sure to try out the bubble tea as well.
Hacienda San Jorge Smoke House: Whether you're craving some ribs or smoked brisket, this place has it all.
Italian Village Decadent Delights: The Italian restaurant serves a lot of different dishes, as well as desserts and cold drinks.
King Henry's Table: The restaurant serves a lot of finger-licking dishes, like baked honey turkey legs, coconut shrimp, and Irish cheesy fries.
Where to Stay in Renaissance Festival Texas?
Do you love camping? Or do you need to relax in a luxurious hotel? There are different accommodations around the festival. Let's check them out.
Hotels
There are a lot of hotels located around 20–30 minutes away. From economy hotels to luxurious ones, you'll find accommodation that suits your budget. Here are some of our favorite hotels near the festival:
Margaritaville Conroe
Holiday Inn Express & Suites Houston NW – Cypress Grand Pky
Courtyard Houston NorthWest
Camping
Camping allows you to live the magical experience of the festival. You can rent cabins and glamping tents for the day or the entire weekend. You can also bring your RV or motor home to the festival, as they have a place for them.
The Renaissance festival offers 24-hour security for campers. Additionally, you can find showers, potable water, convenience stores, and food trucks.
The place is quiet and perfect for families. In fact, there are family bonfires and family crafts events that take place around the camping area.
Not only that but there are shuttles about every 15 minutes that can take you to different locations and gates around the festival.
Tips for Your Visit to Renaissance Festival Texas
Here are some essential tips for your upcoming visit to the Renaissance:
Wear comfortable clothes or costumes, especially shoes, as you'll walk often.
The festival gates open at 9 a.m. Make sure to arrive early to avoid long lines.
Plan your day thoroughly to not miss out on any of the performances or activities.
Keep your phone away and enjoy the experience. There are some lockers available where you can keep your essential stuff.
Not all stage shows are appropriate for kids. So, check the shows on the website before grabbing your kids with you.
Bring some cash with you. While most vendors take credit cards, some take cash only.
Check the weather for Todd Mission before you leave for your adventures.
Renaissance Festival Texas FAQs
When Is the Next Renaissance Festival?
The next Renaissance festival will be on the weekends from October 7 to November 26 & Thanksgiving Friday, 2023.
How to Purchase the Tickets for the Renaissance Festival?
You can buy tickets at the Kingdom Gates on the day of the festival. However, we recommend buying the tickets online for the dates of your arrival as you get a discount for online purchases.
Do Children Need a Ticket to Enter the Festival?
Children who are 12 and under can enter for free on Sundays. On Saturdays, children's tickets are only half the price of normal tickets.
Can I Bring My Pet to the Festival?
Unfortunately, pets aren't allowed on the festival or camping grounds. However, you can bring service animals, as they aren't considered pets by the federal government.
Resources