Walking along the boardwalk is often associated with fun rides, ice creams and soda, happy people, and everything good about summer. Kemah Boardwalk, Texas, offers all of this and much more. It is a boardwalk dedicated to smiles, entertainment, and great food.
It is warm all year round at the Kemah Boardwalk, so summer never ends, and neither do the fun times.
Kemah Boardwalk Texas is a 60-acre theme park situated on the Gulf Coast between Galveston and Clear Lake Shores and a 35-minute drive from Houston. The main attraction is the Amusement Park with its 15 rides. The boardwalk offers restaurants, shopping, and live entertainment.
About Kemah Boardwalk Texas
Kemah means 'wind in the face.' Kemah residents came up with the name due to the town's position on the bay. The town was named Kemah when the 1st post office opened in 1907.
Kemah Boardwalk is synonymous with fun and entertainment. The boardwalk opened in 1998 after Landry's Inc. bought the Kemah Board Walk and created the waterfront attraction as it is today.
Location: 8 Kemah Waterfront Street, Kemah, Texas, on the Gulf Coast along Galveston and Clear Lake shoes
Co-ordinates: 29 degrees 37'52" N 95 degrees 1'2" W
Opening Hours:
Monday – Wednesday: 12-7 pm
Thursday: 12-7 pm
Friday: 12-9 pm
Saturday: 12-10 pm
Sunday: 12-8 pm
U.S. Bank ATMs:
Saltgrass Steak House
Lighthouse Buffet
Main Plaza Breezeway
Nearest City: Houston, 20 miles from Downtown Houston
Time Zone: GMT/UTC
Weather: Hot in Summer, Warm in Winter
Best Restaurants:
Bubba Gump Shrimp Company
Landry's Seafood House
Downtown Aquarium restaurant is an ideal treat for kids. The restaurant has Crazy Alan's and Swamp Shack.
The Flying Dutchman
Saltgrass Steakhouse
Joe's Crab
Best Hotels:
Boardwalk Inn
Hampton Inn
Courtyard by Marriott Houston
Springhill Suites
South Shore Harbour Resort and Conference Center
Hilton Houston NASA Clear Lake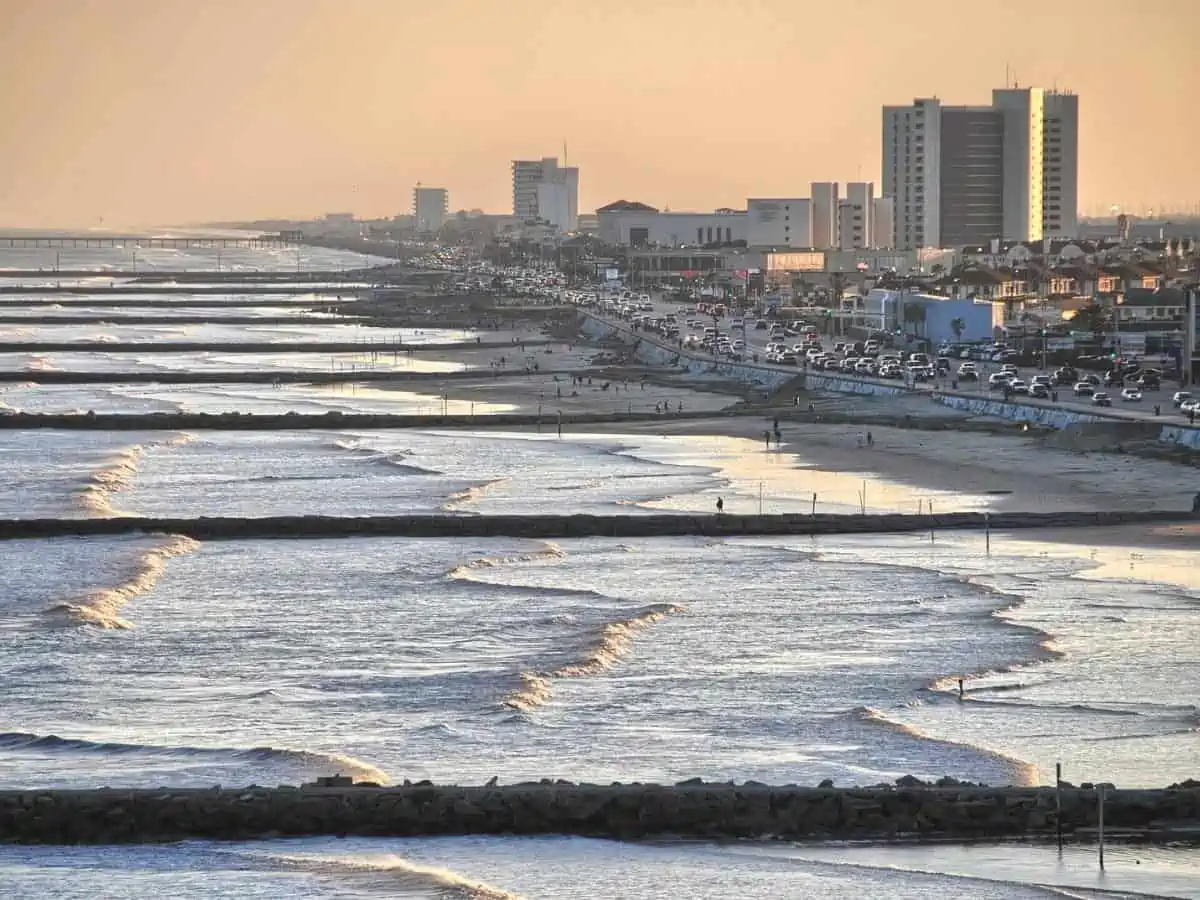 What Is Kemah Boardwalk Known For?
One of the main attractions at Kemah Boardwalk is the amusement park, with 15 rides from downright scary to super fun for kids. One thing you won't be at Kemah Boardwalk is lost for entertainment.
The Kemah Boardwalk Marina has the most boats lined up alongside each other in Texas and the 3rd largest recreational fleet in the U.S.
The boardwalk is a 3-mile loop that takes, on average, 52 minutes to walk if you don't stop or have distractions along the way.
Where Is Kemah Boardwalk?
Kemah Boardwalk is a 60-acre theme park that runs along the coastline from Galveston Bay to Clear Lake. It is situated in Kemah at 215 Kipp Ave.
If you are driving from downtown Houston, you'll reach Kemah Boardwalk on one of the following routes:
I-45 S, 35-minute drive, 32,8 miles in distance
TX-225 E and N Hwy 146 S, 37-minute drive, 36,2 miles in distance
I-10 E, TX-225, and N HWY 146 S, 37-minute drive, 34 miles in distance
Nearby Locations
Aside from a short drive from Houston, Kemah is in relative proximity to several other cities, towns, and suburbs:
Clear Lake Shores 0.8 miles
El Lago, 2.6 miles
Bacliff 3 miles
Taylor Lake village 5.7 miles
Nassau Bay 4.1 miles
Seabrook 4.3 miles
League City 4.6 miles
Dickinson 5.8 miles
Webster 5.8 miles
Shoreacres 6 miles
San Leon 6 miles
La Port 9.2 miles
Texas City 9.3 miles
Friendswood 9.5 miles
Morgan's Point 10 miles
The Layout Of Kemah Boardwalk
The Kemah Boardwalk runs from west to east along the Gulf Coast. Parking lots are situated to the west side across from the Marina and to the west of the amusement park within the grounds of Kemah Amusement Park.
There are several entrances into the park from the parking next to Amusement Park (Parking lots A–C). There is also a multi-story parking lot to the right of the Marina and valet parking next to the multi-story parking lot.
What To Do At Kemah Boardwalk
Entertainment is the name of the game at Kemah Boardwalk. The amusement park is the main drawcard with 15 different adventures and rides.
Wonder Wheel
Kemah Board Walk is a wonderland for children. The Wonder Wheel is a small Ferris wheel for kids. Kids measuring less than 42" must be accompanied by an adult.
Double-Decker Carousel
The Double Decker treats kids to ride on different creatures like unicorns, seahorses, and dragons. Not only are there rides that gallop up and down there are also rides spin around.
Stingray Reef and Rainforest Exhibit
The stingray Reef and Rainforest Exhibit presents the opportunity to take a rainforest trip and see snakes, scorpions, tarantulas, piranhas, and many other creepy crawlies. Touching live stingrays is included in this trip.
Dancing Water Fountains
The Dancing Water Fountains are in front of the Boardwalk Inn and are ideal for kids to cool down and have fun. Children must wear bathing costumes and be accompanied by an adult.
Fun and Games
The playground behind the Flying Dutchman is also great entertainment for children. Midway Games are behind the Lighthouse Buffet, and there is a Games' Arcade on the 2nd floor of the Boardwalk Inn.
Century Wheel
The 65-foot Century Wheel is a great ride for the entire family. It's a leisurely ride with views over the Kemah Boardwalk Amusement Park. Kids under 42" must ride accompanied.
Huntington Train
The Huntington train replicates the 1863 C.P. Huntington Train and is a fun way to take a trip around the amusement park. Kids must be 42" or over to ride unaccompanied.
Hypno Spin
The Hypno Spin is thrilling for those who don't get giddy. Each open cabin has space for three passengers. Kids under 36″ are not permitted to ride and must be 42″ to ride alone.
The Aviator
The Aviator is a high-rise swing that spins way above the boardwalk; kids must be over 48″ to swing solo. The highlight of the Aviator is that you can control your two-seater's wings, deciding whether you want to fly gently or rock a round in rough weather.
Pharoah's Fury
Pharaoh's Fury is the ultimate pendulum ride. If you are up to it and enjoy the feeling of your stomach sinking to your feet. Then this ride is for you. Kids must be 48" to ride.
Drop Zone
The Drop Zone is for thrill seekers; it's a 140ft free-fall drop that is bound to have you screaming and clutching your safety bar with white knuckles. Kids must be 48″ to ride.
Rockin' Rocket
The Rockin' Rocket is a space machine that blasts passengers into an adventure. The Rocket moves backward and forwards and spins around for outer space excitement.
Iron Eagle
Iron Eagle takes thrill seekers on a 30mph, 100' over the boardwalk. The ride has safety precautions, and passengers are well-restrained for this soaring adventure. Kids between 42″ and 48″ must be accompanied.
The Flare
The Flare is a looping roller coaster that rocks back and forth at 25 miles per hour. It flips upside down while you are traveling around. Kids must be 48" tall to ride the Flare.
Boardwalk Bullet
The Boardwalk Bullet is a feature ride; it's a wooden rollercoaster that is 96 feet tall and has passengers screaming when it drops 92′ at over 50 mph and races around bank turn at breakneck speed. Anyone under 48" may not ride.
Boardwalk Beast
The Boardwalk Beast is a 25-minute speed ride on Galveston Bay, reaching up to 40mph as it speeds across the water. Kids must be 35″ tall to ride.
Shopping
Apart from the exciting rides at the amusement park, the boardwalk has shops galore for visitors looking for retail therapy. Kemah Boardwalk has several specialty stores that make for interesting shopping. There are stores such as Old Tyme Photos, Saltgrass Junction General Store, Candy Box, and Gold Mine, to name a few.
Where To Eat
What would a boardwalk be without restaurants to grab a bite or refreshment while exploring and having fun? Kedah Boardwalk is known for its collection of interesting restaurants serving an assortment of food. In addition to restaurants, there is plenty of soda, ice cream vendors, coffee shops along the way, and a pizzeria.
These are the best restaurants, according to diners at Kedah Boardwalk:
Bubba Gump Shrimp Company was built around the box office smash hit Forrest Gump. The menu is laden with seafood options, many of which have a twist on traditional dishes. Bubba Gump is home to an impressive collection of memorabilia from the movie, and of course, it serves shrimp.
Landry's Seafood House is another restaurant that prides itself on fresh fish and unique seafood fare. You can choose from crab, shrimp, lobster, catch of the day, seafood gumbo, salmon, and delicious-sounding sauces and sides. The cocktail menu offers Landry's special cocktails, margaritas, and virgin cocktails. The dessert menu is decadent.
Downtown Aquarium restaurant is an ideal treat for kids. The restaurant has an underwater theme with a giant fish tank. There's a kiddie's menu and activities to keep them occupied while you delve into various seafood dishes.
Crazy Alan's Swamp Shack prides itself on serving crawfish all year round and claims to sell the best Cajun Seafood in Texas. The menu is huge, with something for every tastebud and a specialty drink menu.
The Flying Dutchman is a restaurant and oyster bar that also serves breakfast. The main course menu offers seafood options.
Saltgrass Steakhouse is a favorite with Boardwalk visitors. It has a large beef and chicken variety of dishes on the menu. It also serves fish and fresh seafood dishes. There is an outdoor dining area as well.
Joe's Crab Shack's menu offers all the seafood dishes and variations one would expect. Joe's famous combo platters are mouth-watering. There's a shop at Joe's Crab Shack where diners can buy cool merchandise and souvenirs to remember their visit.
Where To Stay
There is only one hotel at the boardwalk; the Boardwalk Inn is on the Kemah Waterfront and offers all the amenities one would expect at a boutique hotel. Most guests give this hotel an 8.4 very good rating, so it's worth a sleepover if you spend more than one day on the boardwalk.
Many other hotels near the boardwalk have been highly rated by guests:
Hampton Inn, Houston, a hotel in Seabrook just over a mile from Kemah Boardwalk and a 10-minute drive from the NASA Johnson Space Center.
Courtyard by Marriott Houston Kemah is a short walk from the boardwalk.
Springhill Suites is within walking distance of Kemah Boardwalk and El Jardin Beach.
South Shore Harbor Resort offers great value and is 2.9 miles from the boardwalk.
Hilton Houston NASA Clear Lake is near the Space Center Houston and 3.5 miles from Kemah Boardwalk.
FAQs About Kemah Boardwalk Texas
Is The Entrance Free At Kemah Boardwalk?
Entrance to the park and the boardwalk is free, but all rides are paid for. Combo tickets are available for rides.
Is There Free Parking At Kemah Boardwalk?
There is ample parking available. However, parking must be paid for.
Is There Wheelchair Access At Kemah Boardwalk?
The entire park has wheelchair access, and wheelchairs can be rented.
Can You Swim In The Sea At Kemah Boardwalk?
There is no beach access from the Kemah Boardwalk and no swimming beaches.
References: