Galveston is the place for you if you're looking for an ocean getaway. Galveston's whole southern shore provides plenty of area for you and the whole family to spread out and have fun in the sun.
Galveston is known as one of the country's most charming beach towns. There are many tasty eateries and inviting lodgings in Galveston, but the city also boasts an exciting beachfront, a rich architectural history, an adventure-inspired Moody Garden, and numerous museums.
About Galveston Texas?
Off the Southeast Texas coast, on Pelican Island and Galveston Island, is Galveston's coastal resort and port city. It is home to amazing views, tasty cuisine, and many attractions. Over 50,000 residents live in the 200-square-mile town near Galveston County.
Facts About Galveston Texas
Location: Located roughly 2 miles off the Texas peninsula and 50 miles southeast of Houston, Galveston occupies nearly the entire 32-mile-long Gulf of Mexico island.
County: Galveston County
Zipcodes: 77550, 77554, 77551, 77555, 77552, 77553
Population: 50,307
Crime rate: The city's violent crime rate is ranked at 29.7 (from rank one being low to no crime and categorized as 100 for a high crime rate). Property crime is ranked at 55.6.
Average Temperature June: 70.0 to 88.3 degrees Fahrenheit
Average Temperature January: 46.5 to 62.8 degrees Fahrenheit
Universities: The Texas A & M University at Galveston and the University of Texas Medical Branch.
Airports: Scholes International Airport (three miles from Galveston CBD).
Best hotels: The best hotels include the Holiday Inn Resort Galveston-on the Beach, The Tremont House Hotel, Best Western Plus Seawall Inn & Suites By The Beach, Best Western Plus Galveston Suites, and Courtyard by Marriott Galveston Island.
Best Restaurants: Some of the best restaurants include Little Daddy's Gumbo Bar, ShyKatZ, MOD Coffeehouse, and Grotto Ristorante.
What's Galveston Texas Known For?
This charming island on the Gulf Coast of Texas is known for its Moody Gardens, where enormous glass pyramids are home to famous actors, singers, sharks, monkeys, and more.
The south side of Galveston Island Historic Pleasure Pier is lined with eateries and amusement attractions. Galveston Island State Park, with its trails, kayak launching, and fishing places, is to the west and is also a haven for birds.
Galveston, also called Galvez' city or town, was dubbed after a Spanish political and military leader Bernardo de Gálvez y Madrid, from the 18th century.
East Beach is known as a sporty crowd fan-favorite for volleyball vibes, swimming, concerts, festivals, and the AIA Sandcastle Competition
Previously known as the Texas Medical Institution, you'll know it today as the University of Texas Medical Branch, the oldest medical college in Texas. It was founded in Galveston in 1891, and the first nursing school was founded there in 1894.
Galveston is also home to the Historic Pleasure Pier and is often dubbed as the carnival on stilts, boasting roller coasters to colorful buildings and a hotspot for families.
People From Galveston Texas
John Stockwell is an American actor, producer, director, and writer. He is arguably best known for his acting work in the 1983 Stephen King and John Carpenter film "Christine," the 1982 film "Losin' It," and the 1986 "Top Gun" movie starring Tom Cruise.
Barry E. Carter, better known by his stage name Barry White (1944 – 2003), was a Galveston-born well-known American singer and composer.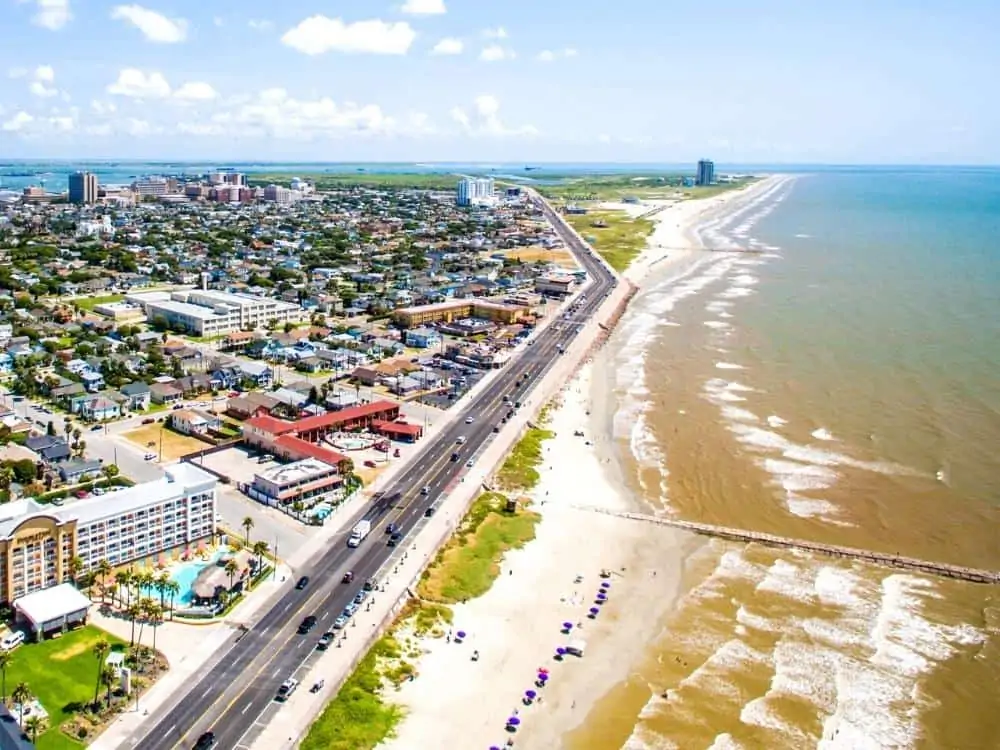 Where Is Galveston Texas?
Galveston lies on the upper Texas coast of the Gulf of Mexico, covering nearly the entire 32-mile-long island situated roughly 2 miles off the Texas peninsula and 50 miles southeast of Houston.
Most Galveston inhabitants rent their houses, giving people a sense of living in an urban-suburban mix.
Galveston has several pubs, eateries, coffee shops, and parks. Galveston has a large population of young professionals, and its citizens often have moderate political views.
Nearby Locations
La Marque – 13,8 Miles
Texas City – 15,2 Miles
Dickinson – 18,1 Miles
Webster – 29,3 Miles
Baytown – 41,4 Miles
Houston – 50,9 Miles
Houston is the only major city near Galveston within 50 miles. However, Galveston is only a short drive to five smaller cities that all have their own unique attractions about them.
Areas In Galveston Texas
Downtown Historic District
San Jacinto
Beachtown
Fish Village
Cedar Lawn
Silk Stocking Historic District
The San Jacinto area of Galveston is regarded as one of the trendiest areas to reside in and is popular with young professionals and couples.
There is always an event to relish or something enjoyable to do in town because it is a popular tourist destination.
Long lengths of pristine coastline surround San Jacinto, providing only the best in coastal life. As a result, most houses in this neighborhood, also recognized as historic areas, date from the late 1800s and early 1900s.
Housing is trendy because of the Victorian, Greek Revival, and Italian architectural influences. Since the University of Texas Medical Branch grounds is nearby, many students also frequently call San Jacinto home.
Getting About Galveston Texas
Galveston is as accessible as an island can be; it's roughly an hour south of Houston and linked to the mainland by a causeway. Uber or Lyft, shuttles, limousines, rental cars, and personal vehicles are just a few methods to get to, from, or around the island.
| | |
| --- | --- |
| Type Of Transportation | Galveston, Texas |
| Travel by foot or bicycle | Less than 3% |
| Public transport | More than 10% |
| Driving by self | More than 20% |
| Uber, Lyft, and other shuttle services | More than 60% |
Traveling On Foot
Anywhere along the 10-mile seawall, a stroll is a safe bet. Here's a hint: Try the distance from the seawall's western end to the 91st Street Fishing Pier in Galveston. It is a short 2-mile roundtrip distance.
Other than that, most travelers and locals prefer traveling via vehicle when not touring or hiking.
Traveling With Public Transport
Galveston Island is served by the public transportation system called Island Transit. The service area of the transportation system, which has been operating for over 40 years, is around 25 square miles.
Driving Their Own Vehicles
Many couples and young professionals find themselves traveling the roads of Galveston in the comfort of their own vehicles. Among some of the local customs is carpooling among friends and colleagues.
Online Shuttle Services
Lyft, Uber, and other online shuttle apps are some of Galveston's most popular forms of transportation.
What To Do In Galveston Texas
East Beach and Stewart Beach are two of Galveston's most well-known and lively beaches. The city also has various fascinating museums, such as Texas Seaport Museum, the Bryan Museum, Galveston Railroad Museum, and Ocean Star Offshore Drilling Rig & Museum.
Galveston invites tourists to learn about the island's fascinating past by exploring one of its well-known historic houses. In addition, Galveston has one of the nation's most significant and best-preserved concentrations of Victorian architecture.
Visit Galveston's Beaches
East Beach is busy, energetic, and full of surprises, such as sports events and festivals throughout the year. However, Stewart Beach is almost always populated with families, is within walking distance of many eateries, and has a slower pace than its close neighbor, East Beach.
Moody Gardens Is A Tourist Attraction
You may be in a beautiful rainforest with macaws and monkeys, and in the wink of an eye, you may find yourself surrounded by tropical fish of all shapes and sizes while standing beneath swimming sharks.
There is something special about Moody Gardens, which is home to large glass pyramids filled with animals worldwide.
Embrace Rich Architectural History
The past is very much a part of the present, as you will quickly discover it as you drive through Galveston's historic districts.
Every magnificently opulent Victorian-era house depicts the Galveston that was Texas' first significant metropolis. After all, the state's first opera house, hospital, golf course, and post office were all constructed here.
Where To Eat
Little Daddy's Gumbo Bar – American cuisine, seafood, and bar
Shearn's Seafood and Prime Steaks – Steakhouse, seafood, and fine dining
ShyKatZ – American Diner and breakfast
Grotto Ristorante – Italian food, seafood, and pizza
Where To Stay
Moody Gardens Hotel Spa And Convention Center – a premier hotel
The Tremont House Hotel – various premier, room service, nearby amenities
Best Western Plus Seawall Inn and Suites By The Beach – different premier, ocean view, and suites
Best Western Plus Galveston Suites – hotel, ocean view, room service, housekeeping, pool
Courtyard by Marriott Galveston Island – various premier suites, housekeeping, ocean view
Galveston FAQs
Is It Worth It To Visit Galveston?
Besides all the city's extraordinary attractions, Galveston's citizens are masters at applying southern charm. The city has developed a reputation for having kind and inviting locals because it is such a laid-back and enjoyable place to live. In actuality, 80% of the populace was rated as pleasant and kind.
How Safe Is Galveston?
Galveston has many friendly and safe neighborhoods, but compared to other metropolises of the same size, it also has among the worst crime rates in the country. Unfortunately, being a victim of a crime is somewhat likely, given that there are 39 incidences of crime per 1,000 people.
References: