Frisco in Texas has a real suburban feel, with many families making Frisco their home. It is one of the best cities in Collin County, where many residents own homes. It has a town feel with a big city's amenities and business opportunities.
Frisco is the fastest-growing city in Texas, with major business expansion and job opportunities. It is a family-orientated city with good schools and many activities for kids. Frisco's major attraction is the Dallas Cowboys, which has its training facility and headquarters.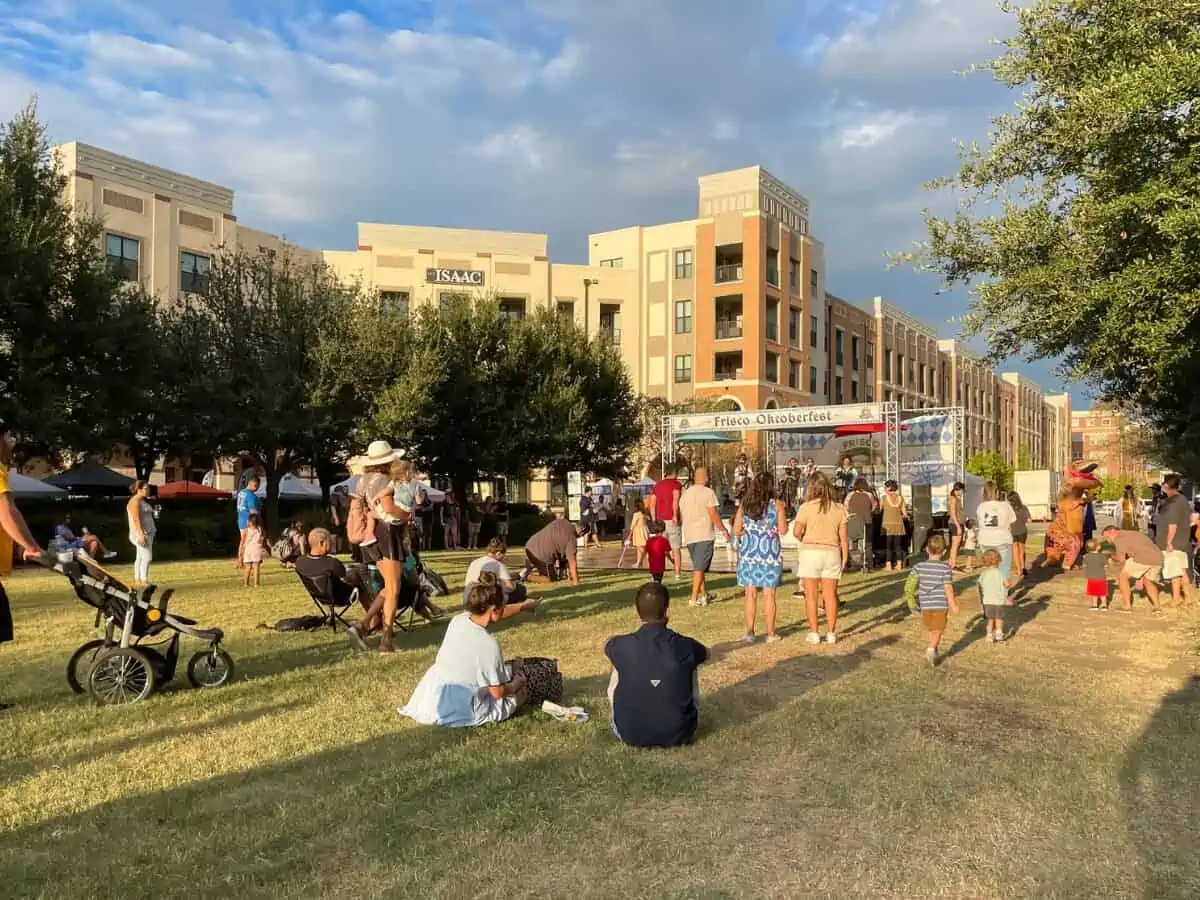 About Frisco Texas
This city in Texas was initially a small town called Emerson, but in 1905 the residents changed the name to Frisco City (San Francisco Railway) and later shortened it to Frisco. The town was an agricultural hub for many years in the earlier days and a significant producer of cotton. Today cotton is not grown in Collin County.
Modern Frisco has many large companies that offer employment to residents. The city boasts amenities, recreational and cultural centers, schools, and educational institutes like those in larger cities.
If you are planning to visit or relocate to Frisco, here are some interesting facts.
Facts About Frisco Texas
Location: Frisco is in the northeast region of Texas.
County: Frisco is situated partially in the Denton and Collin counties in Texas.
Land Area: Frisco has a land area of 61.8 sq. miles, and 0.48 sq. miles is covered by water.
Zipcodes: 75033 – 75036, 75068, 75071
Population: The 2022 census shows that Frisco has a population of 218,735 citizens
Crime rate: Frisco has a low crime rate of 11 per 1000 residents
Average Temperature June: 89°F
Average Temperature January: 55°F
Universities: Frisco has the University of North Texas (UNT) and campuses of Amberton University, Dallas University, and UT Arlington.
Airports: Frisco does not have its own airport. The nearest airport is Dallas/Fort Worth International Airport which is 21.4 miles away.
Best hotels: Omni Frisco Hotel, Hyatt Regency Frisco-Dallas, Drury Inn and Suites Dallas Frisco
Best Restaurants: EG Steak, Mash D, and Norma's Café
What Is Frisco, Texas Known For?
Frisco is home to the best football team in Texas, the Dallas Cowboys NFL. Their World Headquarters and training facility are also located in Frisco. They practice at The Star stadium, a fantastic state-of-the-art sports facility. Frisco is also well known for producing excellent students from the Frisco Independent School District (Frisco ISD).
This lovely city has many things to do, from playgrounds and other activities for children, shopping excursions to enjoying nature. You can enjoy nighttime vibes with fine dining and music and attend many football games and other sports activities.
People From Frisco Texas
Famous people from Frisco that have excelled in their field include politicians, a folk singer, sporting greats, and an author.
Darin Lee Brooks (American actor, acted in the daytime soap opera "Days of our Lives")
P.J. Washington (Professional basketball player for Charlotte Hornets)
Courtney Gibbs (Miss USA 1988)
Seth Jones (Professional Ice Hockey player for Columbus Blue Jackets)
Patrick Edward Fallon (American businessman and Politician)
Jared Patterson (member of the Texas State House of Representatives)
Skye Blakely (American artistic gymnast)
Maelyn Jarmon (American folk singer, winner of "The Voice")
Reavis Z Wortham (author of Red River and Sonny Hawke series)
Where is Frisco Texas
Frisco is a city in northeast Texas and is a suburb of Dallas, which is part of the Dallas-Fort Worth Metroplex. It is located at 33°1414′ north and 96°8131′ west. Frisco is one of the fastest-growing cities in Texas. Several toll roads and major highways run through the city.
Nearby Locations to Frisco Texas
The following towns and cities are on Frisco's borders:
Prosper, TX, lies to the north.
McKinney, TX, is to the east.
Allen, TX, also lies to the east.
Plano, TX, is on the south and east
The Colony, TX, lies to the south and west
Little Elm, TX, is to the west
Carrollton, TX, to the southwest
Little Elm, TX, lies to the west
The Layout Of Frisco Texas
There are many parks around the area, and each neighborhood is focused on its community. The public schools in Frisco are highly rated and offer excellent extracurricular activities for inquiring minds and sports enthusiasts. Frisco has several shopping malls, amazing places to eat, outstanding recreational facilities for all ages, gorgeous parks, and nature reserves.
A full-service community hospital with a broad range of services attends to the medical needs of adults and children. There is also a designated Level 1 trauma hospital, 8 fire stations, and a dedicated Police Department to attend to all emergencies.
Areas In Frisco Texas
Newman Village
Chapel Creek
Starwood
Lakes on Legacy
Shaddock Creek Estates
Getting About In Frisco Texas
Traveling by car is the most practical way to get around in Frisco. You can use a rental car or a taxi service if you do not have your own car. However, Frisco does provide scheduled curb to curb demand transportation at a low cost.
Other transportation for hire is shuttle services for transporting children home after school hours. This service will also transport groups to venues for outings and activities.
Cycling is a popular pastime with several cycling clubs in Frisco. The neighborhood parks have cycling and walking trails for excursions for the whole family.
Getting About In Frisco, Texas
Transport Type
Personal Transport
Public Transport
Vehicle
Own car
Car Hire, Taxi, Shuttle
On Foot
Personal
Personal
Cycling
Own Bicycle
Cycle Trails are available
Public Transport
People needing assistance
Curb to curb demand
Getting About Frisco
Driving
Driving your own car is the best way to get around in Frisco. The roads are well maintained, and there are live TV and radio updates for weather and road conditions, traffic flow, and delays, which greatly help vehicle drivers.
On Foot
In the neighborhoods, several walking trails are used by young and old to enjoy a morning jog or leisurely stroll. You will always see families enjoying the fresh air while pushing a pram or cycling with young kids on these outings.
Cycling
The cycling scene in Frisco is vibrant, and newcomers are welcomed and encouraged to join the many cycling clubs around the city. For the past 16 years, Frisco has been named a bicycle-friendly city.
Public Transport
The only public transport that can be arranged in Frisco is curb-to-curb-demand transportation. This is only for senior citizens, the disabled, or for people that need assistance with transport to medical facilities. Other transportation is by way of taxis, car rentals, and busses or shuttles that can be hired to transport passengers.
What To Do In Frisco Texas
Frisco, Texas, has a range of activities and outings suited to all ages.
Visit the National Videogame Museum
Take the family to Little Elm Park, a beachfront recreational park
Take a walk along the trails at Beard Park, a lakeshore park with a play park for kids
Visit Train Topia, the museum of the American Railroad
Experience indoor skydiving at iFLY Indoor Skydiving
Take a Dallas Cowboys Tour at the AT & T Stadium
National Videogame Musuem
Learn about the history and industry of video games. See classic video games in an arcade setting and memorabilia and artifacts of this industry. There are many interactive and playable games for you to experience.
Train Topia Museum
See the large selection of steam, diesel, passenger, and freight railroad equipment. There are guided tours, and you will learn all about the history of the American Railroad and be amazed at the more than 70 trains on display.
Dallas Cowboys Tour
Famous Texas Quote: "Football is to Texas what faith is to a priest." — Tom Landry (American professional football player and coach).
This is a tour not to be missed for all football fans! See the World Corporate Headquarters of the Dallas Cowboys at The Star Stadium and stand on the team's training field. You will get a chance to throw the ball on the field and admire the works of art displayed all around the stadium.
Where To Eat In Frisco Texas
EG Steak
Mash D
Normas's Café
Pizzeria Testa
Platia Greek Kouzina
Gloria's Latin Cuisine
Where To Stay In Frisco Texas
Omni Frisco Hotel
Hyatt Regency Frisco Dallas
Drury Inn and
Home2 Suites Dallas Frisco
Hampton Inn and Suites Dallas/Frisco
North-Fieldhouse USA.
Frisco FAQs
Frisco is a beautiful place to live and visit, and there is so much more to say about this lovely city. Here are some FAQs about Frisco.
Is Frisco In Texas A Good Place To Live?
Frisco is an excellent place to live as there are major employers, the job growth is expanding, and there are good opportunities to find employment. The neighborhoods are family orientated, and the schools are good. The cost of living in Frisco is relatively low, with higher incomes, and many families can afford their own homes.
Is Frisco Texas A Safe Place To Live?
The total crime rate in Frisco is low, with 1,279 crimes per 100,000 residents. Of these, only 160 are violent, and the others are property crimes. The Frisco Police Department has 299 full-time officers who do their best to keep the city safe.
References: