Home to the oldest university in Texas and famous for her red poppies, Georgetown, Texas, is a beautiful community to visit. This town has loads to offer if you're looking for historic Victorian architecture and outdoor activities.
Georgetown is located in mid-Texas, approximately 30 miles north of Austin. It is a historic town noted for Southwestern University, founded in 1875. Thanks to its rapid growth, Georgetown has become a popular destination for people looking to launch new businesses.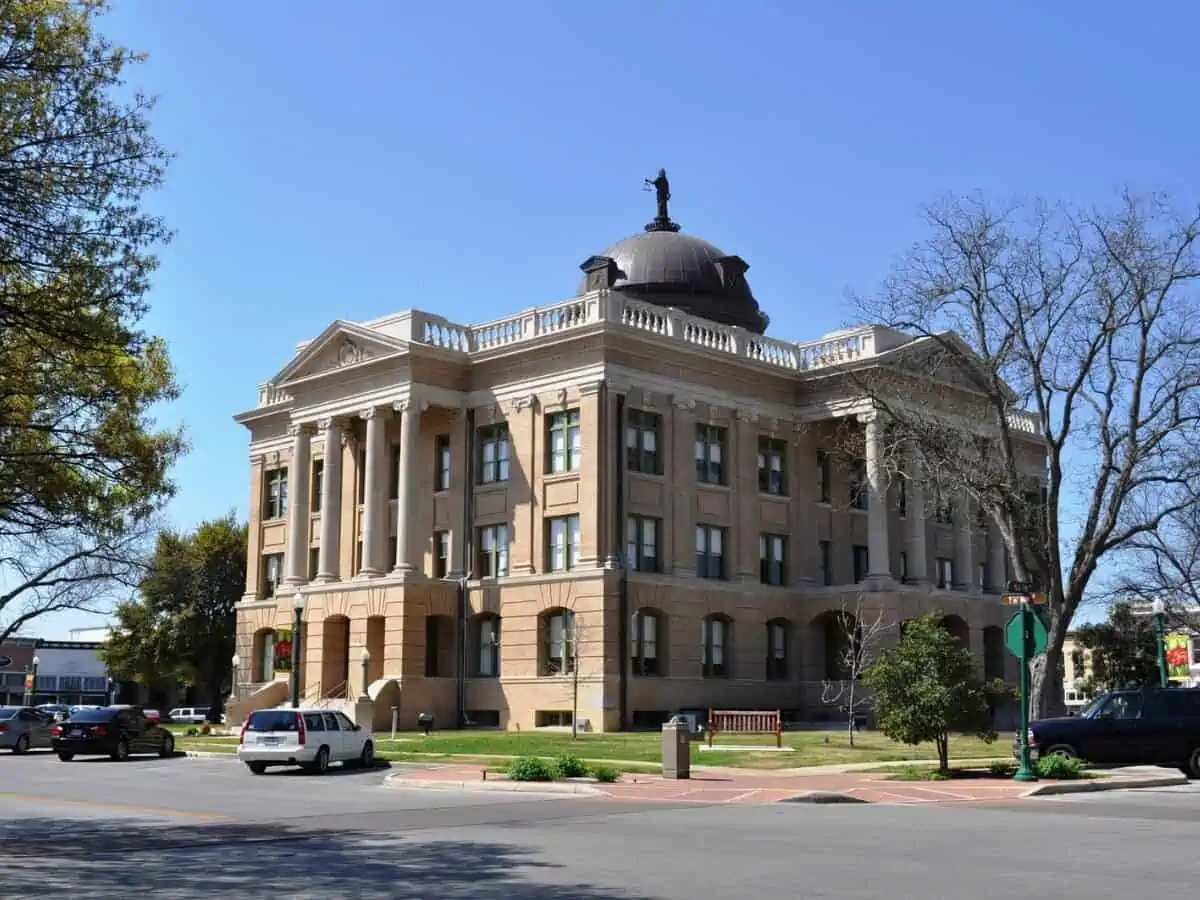 About Georgetown Texas
An early settler and businessman George Washington Glasscock donated the land for the town. In the 1970s, it experienced a revival when local businesses began rehabilitating the Victorian downtown buildings.
It has long, hot summers and mild winters. Thanks to the many days of sun, it became the first Texas city to use renewable energy for all its energy needs. It has a thriving art and entertainment scene. Several films have been shot in Georgetown, including the successful, long-running football TV series Friday Night Lights.
Facts About Georgetown Texas
Location: Central Texas
County: Williamson County
Towns: Nearby towns include Roundrock and Anderson Mill. Austin is 27 miles to the south.
Land Area: 59.63 square miles
Zipcodes: 78626, 78627, 78628, 78633, 78665
Population: 75,420 (2021 census)
Crime rate: Crime index 42, totaling 14.25 crimes/1000 residents.
Average Temperature June: Average high 94 F, average low 72 F
Average Temperature January: Average high 60 F, average low 36 F
Universities: Southwestern University
Airports: Georgetown Municipal Airport, Georgetown Executive Airport
Best hotels: Comfort Suites, Hampton Inn, Best Western Plus
Best Restaurants: Blue Corn Harvest Bar and Grill, Tony and Luigi's, Wildfire, Dos Salsas
What's Georgetown Texas Known For?
As a town surrounded by farms, Georgetown, Texas, is known for its wineries, parks, lagoon, and heritage buildings. Georgetown has the 'Most Beautiful Town Square in Texas', with more than residential historic districts and museums.
Downtown Square – The Georgetown town square is filled with Victorian architecture, boutiques, and eating places.
Blue Hole Park – A lagoon and park along the San Gabriel River
Inner Space Cavern – A 20–25-million-year-old cave system. Parts are open to the public and have guided tours.
The Palace Theater – A historic Art Deco theatre with a year-round season of productions.
Williamson County Courthouse – An example of Beaux-Aerts architecture, designed by Charles Henry Page in 1909
People From Georgetown Texas
Dave Valdez – Chief Official White House Photographer during George W. Bush's term from 1989-1993
Conan Lee Gray – An American singer who gained success as a teen by uploading his content to YouTube; raised in Georgetown.
Thomas Fletcher – American football long snapper, previously with the Carolina Panthers.
Nick Krause – Actor in film and television, raised in Georgetown
Matt Dominguez – A former gridiron football wide receiver.
Where is Georgetown Texas?
It is slightly north of Round Rock and Austin and is the fastest-growing city in the U.S., with a population of 50,000+. Central Georgetown runs along the IH-35. The San Gabriel River runs through the town. It's often considered a commuter suburb of Austin.
Nearby Locations
Austin
Lake Travis
Within 200 miles of Houston
An easy drive from Austin, Texas, and just to the north of Round Rock, Georgetown, Texas, is a growing city surrounded by farmland. With an agricultural community, it is also a hub for business, and the nearby Lake Georgetown provides plenty of outdoor tourism opportunities.
Layout of Georgetown Texas
The historic downtown area of Georgetown is laid out in a grid pattern just east of IH-35 and is bisected by Highway 29. The Georgetown Municipal Airport lies north of the town, just off the IH-35. Lake Georgetown is on the northwest boundary of the town, while the Inner Space Cavern lies to the south.
Areas in Georgetown Texas
Wolfranch
Parkside, Mayfield ranch
Cimarron Hills
Rancho Seinna
Tera Vista
Suppose you're considering a move toward Georgetown. In that case, these are some of the top recommended growing neighborhoods for a new homeowner, with various facilities and home types.
Getting About Georgetown Texas
Georgetown downtown is easily accessible by foot and is served by public transport infrastructure by CARTS, Interurban Coach, and Red Route 1511. There are 117 marked cycle routes, though the most common types of cycles are on hilly courses. Georgetown has a bike share scheme and taxi/ride services.
| | | |
| --- | --- | --- |
| | Location | About |
| Car Services | Faith In Action Georgetown | Volunteer driver services to aid the elderly |
| Cycling | Georgetown Public Library | 10 bicycles available for checkout with a library card |
| Bus | Georgetown Public Library | CARTS Buses operate from fixed routes and curb-to-curb service for those who are mobility-impaired. |
| Rail | No Local Rail | The nearest AMTRAK station is about 20 miles east of Georgetown, in Taylor, Texas. |
Local Transport Services
On Foot
Downtown Georgetown, where the historic buildings, many restaurants, and boutique shops are located, is suitable for walking. Georgetown has grown very fast, and the city has taken on the added number of pedestrians by implementing a sidewalk master plan. The aim is to create a safe, walkable city for all users by 2025.
Public Transport
Public transport in Georgetown is limited to specific routes that repeat every 30 minutes. However, it provides GoGeo paratransit service to help people with disabilities by offering them curb-to-curb service. Reservations must be made in advance and will cost $2 each way. Public coaches are available on the 1511 Red Route at Ninth and Main and the CARTS Georgetown Station.
Driving
Several highways serve Georgetown, and access to many communities is most accessible via car. Traffic is generally an easy flow, though some parts of downtown may experience heavy traffic at certain times.
What to do in Georgetown Texas
If you love the outdoors, hiking, and eating and drinking at local wineries and boutique shops, you'll love Georgetown. Plenty of historical architecture and museums fascinate those who love history. The Inner Space Caves are a must-see for prehistoric interest.
Tour the historic district and its Victorian buildings
Go swimming at the Blue Hole
Tour the Murals in Georgetown
While shopping and eating in the town square is a must, there are also plenty of places to go hiking, cycling, and fruit picking. Georgetown has much to offer in arts and entertainment, with murals, sculpture tours, and events at the Palace Theater.
Georgetown Sculpture Tour
View the pieces on display at the Georgetown annual sculpture tour. Sculptures are dotted throughout the town, adding public interest and beauty to downtown Georgetown.
Blue Hole
A swimming hole situated on the San Gabriel River, this beautiful lagoon is a great place to swim and is only five blocks from the downtown square. Blue Hole Park has restrooms, picnic areas, and places to wade and swim.
Inner Space Cavern
Discovered in 1963, this series of caves is one of the best-preserved Texas caves. Inner Space Cavern is well worth a trip and is filled with stunning formations and prehistoric finds. Public tours are available, but certain parts of the caves are closed to visitors.
Public Art Murals
Georgetown is home to several public art murals. Take a walking tour to find these artistic delights. If you're looking for cool pictures for your Instagram, head through the list to discover these stunning pieces.
Hike the San Gabriel Trail
With 6.6 miles of stunning hiking trails to explore, you can easily walk or bike through San Gabriel. The course is built to accommodate walkers and cyclists and is made of concrete and asphalt. The trail includes star-gazing and bird-watching areas and runs along the San Gabriel River.
Where To Eat
Blue Corn Harvest Bar and Grill – An American and Southwestern bar and grill with a main dining area and a tree-covered patio for outdoor dining.
600 Degrees Pizzeria & Drafthouse – American bar and pizzeria offering lunch, dinner, and after-hours drinks.
Tony and Luigi's – Italian restaurant with vegan and vegetarian options, offering great food and exceptional service
Wildfire – relaxed dining in historic buildings in Georgetown Square
Monument Cafe – Café and diner offering breakfast and lunch
Where To Stay
Best Western Plus – 76 rooms, breakfast, internet, meeting rooms, allows pets, outdoor pool, fitness room
Budget inn – 22 rooms, internet
Candlewood Suites – 71 rooms, internet, allows pets
Comfort Suites – 69 rooms, breakfast, internet, meeting rooms, indoor pool, fitness room
Days Inn – 99 rooms, breakfast, internet, meeting rooms, allows pets, outdoor pool
Georgetown FAQs
Is Georgetown Texas A Good Place To Live?
Georgetown offers residents a suburban space to buy houses, a historic downtown area, and proximity to Austin. The town has a lot of green spaces and a good balance between outdoor living and cultural and artistic entertainment.
Is Georgetown Texas Safe?
Georgetown is a reasonably safe town with a visible and responsive police force. Crime rates are much lower than the national average and are 48% safer than in other cities in Texas.
References: