With a population of just over 18,000, Bay City is one of the smaller areas in Texas. It's located approximately 90 miles southwest of Houston, and is a beautiful place to visit when you want to escape the busy hustle and bustle of the city.
Bay City is a prime destination for outdoor enthusiasts. From hunting to fishing to bird watching, it gives visitors the chance to enjoy nature in its purest form. This city might be the small town of your dreams with thriving wildlife, picturesque views, and tranquil vibes!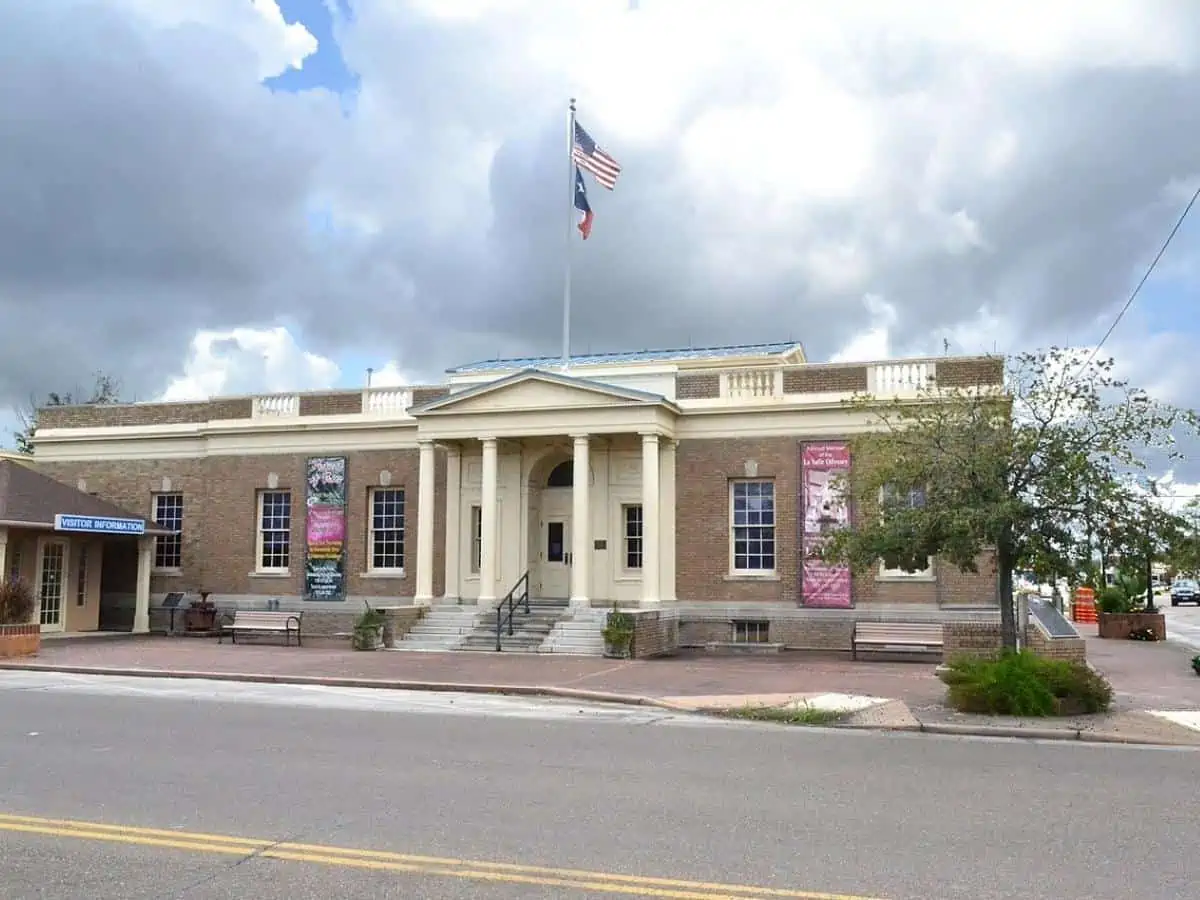 About Bay City, Texas
Bay City is a small city located in Matagorda County, Texas. It was founded in 1894 and shortly became the seat of Matagorda County due to its central location. The city was named for its site on Bay Prairie, tucked between the Caney Creek and Colorado River.
Facts About Bay City, Texas
Location: 90 miles southwest of Houston, at the Colorado River.
County: Matagorda County
Nearby towns (within 53 miles): El Campo, Wharton, Lake Jackson, Clute, Angleton, Rosenberg, Freeport
Land area: 8.5 square miles (8.5 square miles of land, with 0.12% water)
Zip codes: 77404, 77414
Population: 18,061 (2020)
Crime rate: 39.75 (5.15 violent crimes, 34.60 property crimes)
Average temperature June: 88°F to 91°F
Average temperature January: 64°F to 69°F
Universities (within 50 miles): Wharton County Junior College, Brazosport College, Alvin Community College
Airports: Bay City Regional Airport, Victoria Regional Airport, William P. Hobby Airport
Best hotels: Fairfield Inn & Suites by Marriott Bay City, Holiday Inn Express & Suites Bay City, Hampton Inn & Suites Bay City, Best Western Plus Bay City Inn & Suites
Best Restaurants: Fat Grass Restaurant, Blue Ocean Restaurant, K-2 Steak House, La Casona, Main Street Coffee Bar, The Crab Trap Grill
What's Bay City, Texas Known For?
Bay City is best known for its expansive gardens and wildlife centers. The Matagorda County Birding Nature Center covers a massive area of 35 acres (140,000 m2), making it one of the best birding spots for nature lovers. It's also home to Matagorda County Museum, which preserves, protects, and collects the county's unique cultural heritage.
Bay City is the agricultural town on the Bay Prairie. Although it's a small city, it's one of the biggest producers of rice, cotton, corn, sorghum, and turf grass in Texas.
People From Bay City, Texas
Bay City is home to several notable names, especially in the sports industry. These include:
Charles Austin, professional high jumper and Olympic gold medalist
Robert Blackmon, a professional football player
David Caldwell, a professional football player
Joe DeLoach, American sprinter and Olympic gold medalist
Greg Laughlin, a former member of the US House of Representatives
Ricardo Ramírez, a former Roman Catholic Bishop
C. Wallis Ohl, Jr., former Provisional Bishop of Fort Worth
Alex Dixon, a professional soccer player
Quentin Jammer, a professional football player
Ronnie Heard, a professional football player
Where Is Bay City, Texas?
Bay City is located at the junction of State Highways 35 and 60, midway between Galveston and Corpus Christi. It's about 78 miles southwest of Houston, right where the Colorado River meets the Gulf of Mexico.
Nearby Locations
These are the nearby cities, towns, suburbs, and localities found within 30 miles of Bay City, Texas:
| | |
| --- | --- |
| Location | Distance from Bay City |
| Van Vleck | 5.41 miles |
| Markham | 6 miles |
| Sweeny | 16.82 miles |
| Boling | 19.52 miles |
| Wild Peach Village | 21.44 miles |
| West Columbia | 22.52 miles |
| El Campo | 23.39 miles |
| Wharton | 24.11 miles |
| Palacios | 24.2 miles |
| Brazoria | 24.56 miles |
| Needville | 29.87 miles |
Nearby locations in Bay City, Texas
Layout of Bay City, Texas
The layout of Bay City, Texas is pretty straightforward. It's within 50 miles of El Campo, Wharton, and Lake Jackson, located near the mouth of the Colorado River on the upper Texas coast. It's at the end of State Highway 60 and close to Farm to Market Road 2031, which is south of the Gulf of Mexico.
Areas in Bay City, Texas
Bay City has 15 neighborhoods and subdivisions that comfortably house just over 18,000 citizens. Some of the most top-rated include:
Del Norte/Golden Glen Subdivision
Avenue Bay
Bay Ridge
Sargent
Strawberry Dr/Horn Rd
Baywood
Valhalla
The listed areas above tend to have lower crime rates and higher quality of life than most other neighborhoods in Bay City.
Median house prices in the area fall between $160,000 to $190,000, significantly lower than the US median of $370,000 and the state average of $250,000.  
Getting About Bay City, Texas
Though getting about Bay City is more convenient with a private vehicle, it's generally a pedestrian-friendly area. Most major shopping areas, restaurants, schools, and government municipalities are within walking distance, and there are plenty of transportation services to go around.
On Foot
Bay City is pretty small, spanning only 8.50 square miles. It's pedestrian and bike-friendly; most citizens go around town on foot or by bike.
Bay City highschool has a 0.9-mile (2000-step) walking trail, making it easy for teens to go to and fro school without needing the bus.
Public Transport
Transportation in Bay City is easy to come by. It offers dozens of bus and taxi services, as well as tram and train. Reliable transportation services can be found in the following locations:
Bay City ISD Transportation: 2217 9th St
R Transit: 1510 Avenue G
BNSF: 2000 6th St
Texas Coast Limousine Service: 3000 7th Street
Driving
You'll rarely find traffic jams in Bay City. It's a quaint town that mostly relies on transportation services to get from place to place. If you decide to take your vehicle to Bay City, ensure your driver's license is up-to-date.
Those with out-of-state US licenses can only drive in Bay City for only 90 days. Visitors with foreign licenses can use it for up to a year as long as they have a valid International Driver's Permit (IDP).
What to Do in Bay City, Texas
Bay City might not be filled with glitz and glam, but it's an outdoor enthusiast's paradise. Whether it's hunting, fishing, or bird watching, Bay City doesn't disappoint.
Here are two of the best things to do during your stay in Bay City.
Bird Watching In Matagorda County Birding Nature Center
With its lush gardens, natural wetlands, and impressive structures, the Matagorda County Birding Nature Center is stunningly picturesque.
Spanning 38 acres, you'll be met with ponds, waterfalls, wildflower fields, pavilions, bridges, and numerous other structures and terrains. You'll also get the chance to discover dozens of plant life and animals in their natural habitats, especially birds.
Visit the Matagorda County Museum
If you're a history buff, you absolutely shouldn't miss the Matagorda County Museum. The museum oversees and collects some of the county's most treasured artifacts, cultures, and traditions, spanning hundreds of years.
Matagorda County Museum isn't only for adults; it's for young visitors, too! The museum features interactive areas where children can dress in vintage styles and play in the museum's multiple themed areas. This museum has everything from barber shops to opera houses to old-fashioned schoolhouses!
Where to Eat
Bay City has numerous local restaurants and fast food centers to visit, including:
Fat Grass Restaurant for burgers, steaks, pasta, and meatloaf
K-2 Steak House for mouthwatering steaks
Blue Ocean Restaurant for premium seafood dishes
9er's Grill for grilled burgers, meat, and seafood
Yamato Hibachi & Sushi for Japanese-style dishes
Where to Stay
From affordable to luxurious, Bay City has it all. These are some of the best places to stay during your trip:
La Quinta Inn & Suites
Holiday Inn Express & Suites Bay City
Days Inn By Wyndham Bay City
Candlewood Suites Bay City
Super 8 By Wyndham Bay City
Fairfield Inn & Suites Bay City
Scottish Inns & Suites
Bay City FAQs
Is Bay City a good place to live?  
Bay City is a good place to live if you're searching for a quiet, small town with a tight-knit community. With only around 18,000 citizens, practically everyone knows each other.
Most people are friendly, and you'll find plenty of job opportunities to consider. Plus, there are multiple grocery stores and activities for children to enjoy.
Housing and the general cost of living are pretty cheap, too. On a US average of 100, Bay City's cost of living is 82.9. To put that into perspective, Texas's overall cost of living is 93.9.
Is Bay City safe?  
Bay City has an above-average crime rate compared to other small Texan towns. According to reports, your chances of becoming a victim of property crime in Bay City are 1 in 29, while your chances of becoming a victim of violent crime are 1 in 194.
However, don't let those numbers fool you; Bay City is attentive and accepting of tourists and new locals. You'll be safe in Bay City if you follow common sense and basic safety measures.
Is Bay City worth visiting?  
If you're looking for a quiet town to relax and birdwatch in, Bay City is absolutely worth the visit. There's not much to do compared to the surrounding cities, but it's still worth checking out if only for its delicious food and friendly locals
References