Read In:
6
minutes
Share the post "Fort Worth Stockyards (Cowtown Cattle Run)"
The Fort Worth Stockyards is a magnificent historical spectacle appreciated by hundreds of people throughout the year. It once existed as the world's top cattle trade location around 1893 and retains much of its rustic charm even today. A visit will bring you the best in wild west saloons, cattle runs, live music, and great food and drink!
Fort Worth Stockyards became a thriving cattle hub after Greenleif W. Simpson purchased it in 1893. Its cattle trade and auctions earned it the name Cowtown. Today you can attend cattle runs, wild west style saloons, ghost tours, and enjoy live music from famous artists that perform every month.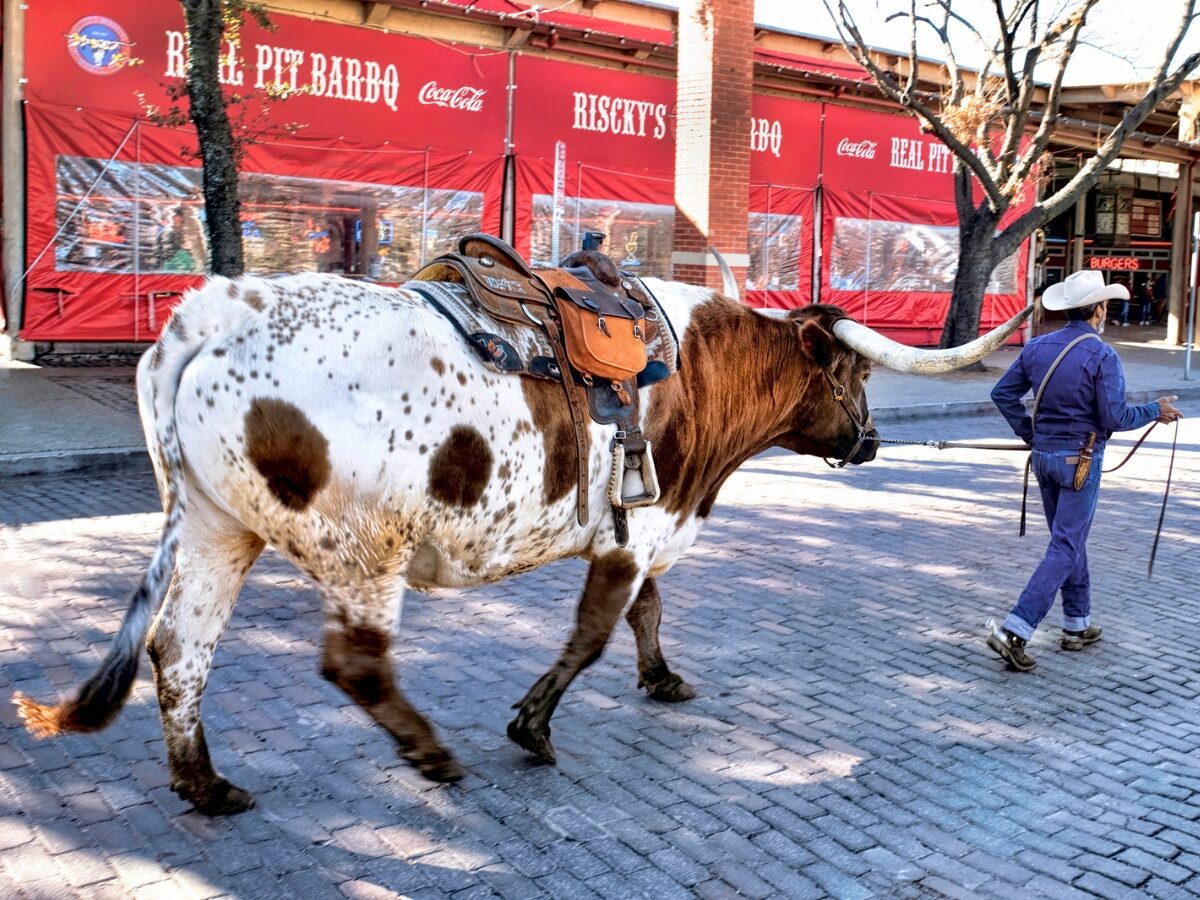 What's Fort Worth Stockyards All About?
Fort Worth Stockyards is a company that specialized in the cattle trade until the 1950s. It initially operated without profit until Greenleif W. Simpson purchased it and had it trade a million cattle a year.
The Fort Worth Stockyards exists to the north of the central business district of Fort Worth, Texas. It first opened on 19 January 1890, after the introduction of railroads in 1876 transformed the area into an essential hub for livestock trade.
On 23 March 1893, a capitalist by the name of Greenleif W. Simpson established the Forth Worth Stockyards Company with great success. He had ambitions to make the venture profitable since the company had previously operated without profit.
By 1907, the company sold roughly one million cattle annually, providing a place for people to buy, sell, sell, and slaughter cattle. The company continued its success up until the 1950s.
Modern-day Forth Worth Stockyards stand tall in remembrance of their cattle industry accomplishments, gaining a spot on the National Register for Historical significance in 1976. Among the 46 important buildings are:
The entrance sign
Cowtown Coliseum
Livestock Exchange building
Armour & Swift Plaza
The Thannisch Block Building and Stockyards Hotel
Why Is Fort Worth Also Called Cowtown?
During World War II in 1917, Fort Worth Stockyards was an international hotspot for the horse and mule trade. The relentless bustling of cattle and cowboys resulted from live auctions, and as such, Fort Worth earned the nickname Cowtown.
What Shops Can You Find In Fort Worth Stockyards?
Fort Worth Stockyards boasts several entertainment and shopping opportunities, including M.L. Leedy's for exquisite footwear, The Maverick Fine Western Wear and Saloon for food & beverages, cattle runs, bars & nightclubs like Billy Bob's Texas, and weekly Stockyard Championship Rodeos.
The Fort Worth Stockyards has several exciting shopping and entertainment venues that cater to its Cowtown history. You can expect to find famous and high-quality boot creators like M.L. Leedy's near the center and The Maverick Fine Western Wear and Saloon for delicious foods and beverages.
The tasty pastime of grabbing a cold beer and enjoying some good food aims to mimic the old days of big cattle drives as they shop around. The Stockyards creates a truly unique wild west experience, so much so that people refer to it as Where the West Begins.
The Western motif also comes to life in the evenings, with multiple nightclubs and bars sure to satisfy your urge for a night out, like Billy Bob's Texas. If you're feeling particularly frivolous and adventurous, why not try your luck at the weekly Stockyards Championship Rodeo?
Otherwise, some volunteers keep the 19th-century practice of running cattle drives through the Stockyards, carried on from Charles Buffalo Jones, who herded calves through Garden City, Kansas.
As of 1 April 2011, Fort Worth Stockyards remodeled and opened the stables, which you can find adjacent to the Hyatt Hotel. The hotel, which first existed in one of the original buildings constructed in 1912, moved to the Armour building in 2015. You can visit the stable and purchase a horse or carriage ride as you marvel at the beauty of the Trinity River.
The city of Grapevine also owns and operates The Grapevine Vintage Railroad – a service that travels between Grapevine station and The Stockyards.
What Events Are Available at Fort Worth Stockyards?
You can attend several events at the Fort Worth Stockyards, including the cattle run that happens twice a day, live performances by famous artists like Ryan Bingham and Ashley McBryde, and a ghost tour where you can attend a guided tour and receive a complimentary glass of wine.
Fort Worth Stockyards Has A Cattle Run Twice A Day
The Stockyards is the only place in the world with longhorn cattle drives twice daily, at around midday and then again in the late afternoon. The event becomes unavailable on Christmas Day, Thanksgiving Day, and Easter Sunday.
Keep in mind that the person in charge of the Fort Worth Herd Trail – the Trail Boss – can cancel a cattle drive at any time if the weather becomes a problem or make the necessary location adjustments.
The Fort Worth Herd steers can be seen before and after the cattle drive in their enclosures located behind the Live Stock Exchange Building. You can also see them from the Observation Deck east of the Livestock Exchange Building on East Exchange Avenue.
The Stockyards Hosts Live Performances By Famous Artists
The Stockyards have a comprehensive list of artists scheduled to appear through the current and subsequent months. You can browse the list of artists under the Events tab at the top and purchase a ticket to their show by visiting the official Fort Worth Stockyards website.
You can expect names like:
Josh Ward
Pat Green
Ryan Bingham
Clay Walker
Ashley McBryde
Treaty Oak Revival
Giovanne & The Hired Guns
Dustin Lynch
Drake Milligan
Reckless Kelly
Fort Worth Stockyards Ghost Tour
When Cowtown Winery became aware of the presence of the supernatural on its property, it developed a tour called the Original Ghost Tour.
This tour is a walking excursion through the Fort Worth Stockyards, during which participants will hear tales of paranormal occurrences and receive an in-depth education on the history of the Stockyards.
The tour includes a complimentary glass of wine from Cowtown Winery. In addition to the ghost tour, Cowtown Winery offers a True Crime Tour. Tickets for either tour are available through the Fort Worth Stockyards' website or by contacting the winery directly.
Fort Worth Stockyards Accommodation
Three hotels at the Stockyards offer accommodation: Hyatt Place, Stockyards Hotel, and Hotel Drover.
Hyatt Place – You can expect spacious and comfortable guestrooms and amenities, such as complimentary breakfast, outdoor pool & fitness center, Wifi, and on-site dining. They're not far from several family-friendly attractions, shops, live music venues, and restaurants.
Stockyards Hotel – A non-smoking facility with free Wifi, valet parking, safe deposit boxes, outdoor terraces, business centers, flatscreen TVs in all the rooms, and hairdryers & ironing board armoire. You'll also be within a ten-minute walk of all the Stockyard facilities.
Hotel Drover – The Backyard, Art collection, Fitness Center, and pool. The Backyard has a beautiful ranch-style hot tub and heated pool. There are 3 private cabanas with hanging daybeds and crystal chandeliers. You'll also find food & beverage services, fire pits for socializing, and outdoor games.
What Was Filmed At The Fort Worth Stockyards?
Prison Break, 1883 Yellowstone Prequel, Necessary Roughness, and Queen of the South all utilized the Fort Worth Stockyards for their film setting.
The Fort Worth Stockyards is a highly sought-after location for amateur and professional filmmakers due to its picturesque and historic setting. The charming and rustic ambiance of the Stockyards offers a genuine and timeless feel captured well on screen.
It resulted in the Stockyards being featured in a variety of movies and television shows, including:
Prison Break
1883 Yellowstone Prequel
Necessary Roughness
Queen of the South
FAQs About Fort Worth Stockyards
You may have more questions regarding Fort Worth Stockyards, so here are some of the most frequently asked questions.
Do You Need To Pay A Fee To Enter Fort Worth Stockyards?
Admission into the Fort Worth Stockyards will not cost you anything. If you purchase tickets to see an upcoming artist live, you should know that the Stockyards gives a discount to all active and retired personnel and sincerely thanks them for their service!
Can You Walk Around And Drink In The Fort Worth Stockyards?
All visitors can walk on the sidewalks with a beer in hand if they purchase it from a licensed vendor on Exchange Avenue. They expect everyone to abide by local, federal, and state laws.
Can You Book The Fort Worth Stockyards For Your Wedding?
If you'd like to celebrate your special day at the Stockyards or just the rehearsal or reception, you can! You need to contact the relevant location where you'd like to host the event. You can also contact them if you wish to host an important reunion with friends or loved ones.
Do The Stockyards Have Activities For Kids?
Kids and adults can enjoy the kid-friendly mechanical bull that is sure to put a smile on any face! You can find the mechanical bull directly in front of the Stockyards Station. If your kids are a little shy, get on first and show them how it's done!
You could even create a game out of it and say you'll buy them a swag cowboy hat if they stay on! (Of course, you'll buy it whether they fall or not).
Resources:
Share the post "Fort Worth Stockyards (Cowtown Cattle Run)"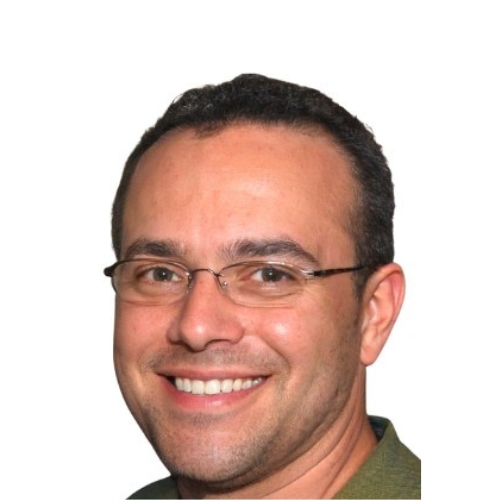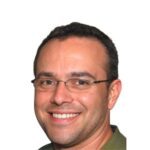 Christian Linden is a seasoned writer and contributor at Texas View, specializing in topics that resonate with the Texan community. With over a decade of experience in journalism, Christian brings a wealth of knowledge in local politics, culture, and lifestyle. He holds a Bachelor's degree in Communications from the University of Texas. When he's not writing, Christian enjoys spending weekends traveling across Texas with his family, exploring everything from bustling cities to serene landscapes.