Texas is known for a lot of amazing things. The Alamo, cowboy culture, honky tonks, and delicious BBQ are just a few examples. But what about its beaches? Are Texas beaches nice?
This article will discuss whether Texas beaches are lovely, which ones you should go to, and other pro tips for planning a trip to a Texas beach.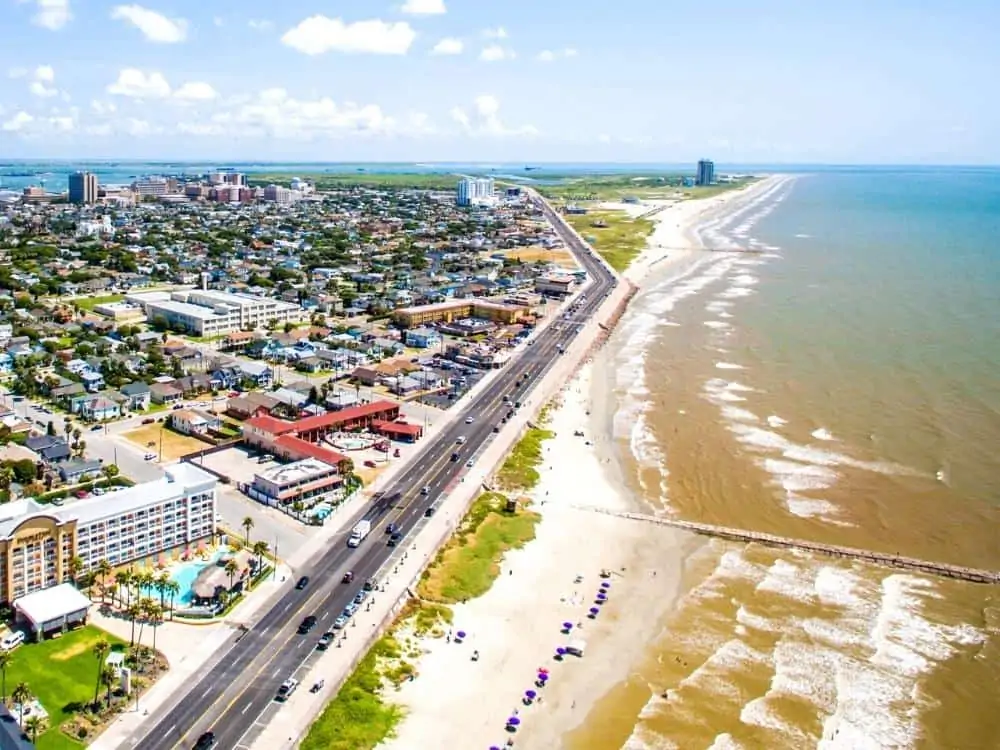 Are Texas Beaches Nice?
The answer is yes, Texas beaches are nice! Texas boasts some of the most relaxing and fun beaches in the United States.
From Corpus Christi to Galveston, there are plenty of options for beach-goers. Here are some of our favorite Texas beaches:
Boca Chica Beach
Galveston Island
Mustang Island
Crystal Beach
Rockport Beach
Corpus Christi
Padre Island National Seashore
Each of these aforementioned beaches has its own vibe, sand texture, water quality, attractions, space, and popularity, so choosing which one to go to might prove a bit challenging.
We'll discuss our top three beach picks and what you should know about them.
1. Boca Chica Beach
Boca Chica Beach is a great place to visit if you want a more secluded experience.
Location
It's located to the west of Brownsville, Texas, and is only a 30-minute drive from the central area of South Padre Island.
Vibe
Boca Chica Beach is perfect for those who want to relax and avoid the crowds. It's also great for fishing, birdwatching, and other outdoor activities.
Sand and Water
The sand at Boca Chica is relatively soft and white, and the water is arguably the cleanest and clear in all of Texas.
Size
It's a small beach, so it never feels too crowded.
Attractions
There are no significant attractions at Boca Chica Beach, but there are several restaurants and bars in the area.
2. Galveston Island
Galveston Island is a famous, fun beach destination for local Texans and tourists alike.
Location
It's located in Galveston, Texas, about an hour's drive from Houston.
Vibe
The vibe at Galveston Island is lively and fun. It's a great place to people-watch, build sandcastles, and swim.
Sand and Water
The sand is soft and gray, and the water is not too cold, which many people appreciate. The sand sometimes has trash and dirt given the crowds, but it's still perfectly safe to get into the water.
Size
Galveston is a famous beach town, but it's pretty large in size, so there's plenty of space for everyone.
Attractions
In addition to the beach, there are several restaurants, bars, shops, and museums on the island.
3. Mustang Island
Mustang Island is an excellent beach to visit if you love water sports, camping, or watching turtles.
Location
It's located in Corpus Christi, Texas, and is only an hour's drive away from another famous Texas beach — Rockport Beach.
Vibe
The vibe on Mustang Island is more laid-back and relaxed. It's perfect for those who want to enjoy nature and experience tranquility.
Sand and Water
The sand is light brownish, and the water is clean and clear. The grounds are also very well-kept, mainly because the beach doesn't ever get too crowded.
Size
Mustang Island is technically a relatively long island with multiple beaches, so there's plenty of space to spread out.
Attractions
Many people go to mustang island for water sports activities such as surfing, kayaking, canoeing, and paddle boarding. There is also a wide range of bars, restaurants, and shops on the island.
Beach Comparison Chart
It can be challenging to compare different beaches, so we've created a table of our top three beach areas in Texas so that you can more easily choose which one will be best for your next trip.
| | | | | | | |
| --- | --- | --- | --- | --- | --- | --- |
| Place | Location | Vibe | Sand & Water | Size | Attractions | Overall |
| Boca Chica Beach | South Padre Island | Relaxed | Soft, white sand; clear, turquoise water | Small | Some restaurants | Great for families |
| Galveston Island | Galveston | Fun and busy | Soft, gray sand; relatively clean water; sometimes trash | Large | Many restaurants and bars | Great for group trips |
| Mustang Island | Corpus Christi | Laid-back and sporty | Light brownish sand; water and sand are almost always clean | Medium | Water sports | Great for active beachgoers |
Texas Beaches Information Chart
Things To Keep In Mind
Here are a few things to keep in mind when planning a trip to a Texas beach:
Bring a Jacket
The water is usually clean and clear, but it can sometimes be cold, so it's always a wise idea to bring a light jacket, windbreaker, or sweater.
Have Something To Sit On
The sand is usually soft, but it can sometimes be hot, so it's a good idea to bring a towel, blanket, or beach chair to sit on.
Remember Your Sun Protection
The sun can be intense in Texas, so bring sunscreen and a hat.
Check The Tide Schedule
The tide can come in quickly at some of these beaches, so it's essential to check the schedule before swimming.
Beach Safety
Beach safety is always important, so make sure to follow all the rules and regulations, especially if you have young children with you.
Now that you're a bit more knowledgeable about Texas beaches, you can start planning your next trip! Remember to consider these points, and you're sure to have a great time.
Texas Water FAQ
We've now answered the question, "are Texas beaches nice?" But you may still have other important questions related to this topic. Here are our answers to commonly asked questions regarding Texas beaches.
Are Texas beaches swimmable?
In addition to lovely white, light grey, or light brown sand, Texas beaches tend to have clean, clear, turquoise waters.
These waters are excellent for swimming and partaking in other water activities such as kayaking, canoeing, boating, paddle boarding, and more.
Do beaches in Texas have clear water?
Yes, many beaches in Texas have clean, clear water, but not all are created equal.
The best beach in Texas for clear water is Boca Chica Beach.
Why are the beaches so dirty in Texas?
As previously mentioned, not all the beaches in Texas are created equal in terms of clean, crisp water.
The beach's water quality will depend on its location and what's around it. Buildings and concrete, leaking sewer systems, livestock farms, and runoff from rain can all contribute to dirty water.
However, there are still many beaches in Texas with beautiful, clear water.
Is there blue water in Texas?
While the water at some of Texas's beaches is blue, the waters are not always crystal-clear like you might find in other parts of the world.
The best beach in Texas for clear water is Boca Chica Beach. South Padre Island is one of the primary tourist hot spots for Texan beachgoers for this reason.
References: