Is it a city? Is it a town? It's neither. Cloverleaf, Texas, is a Census-Designated Place (CDP) east of Houston. You could call it a suburb of Houston because it falls within the larger Houston Metropolitan area.
Cloverleaf, Texas, is an area slightly east of Houston, composed mainly of Spanish-speaking people. Although it is only a CDP, there are sufficient amenities in Cloverleaf and nearby Houston. A large proportion of the population works as laborers or in the manufacturing sector.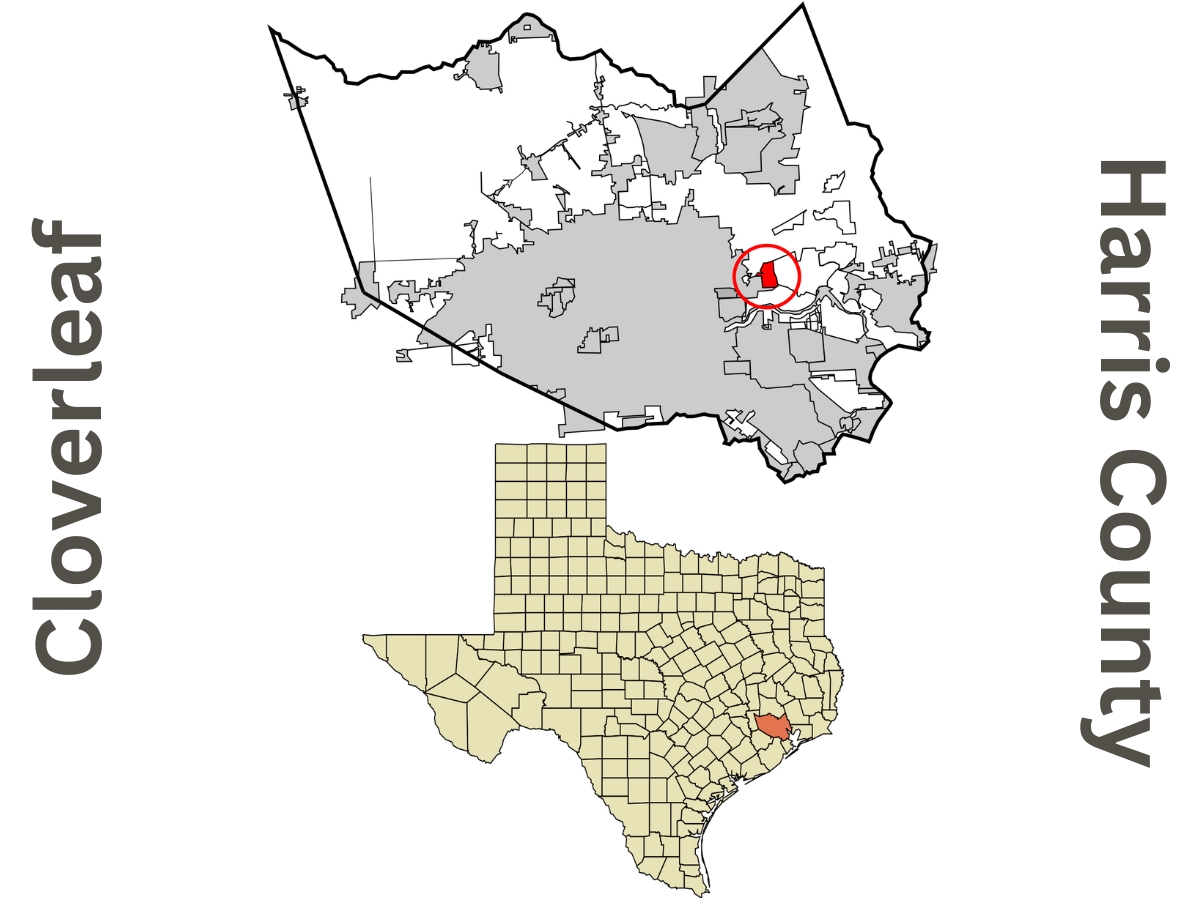 About Cloverleaf Texas
For a long time, Cloverleaf had no name. Its history is vague, but it originated as a railroad stop along the Beaumont, Sour Lake, and Western Railway. A 1936 map shows a nameless development that eventually became Cloverleaf. According to the Handbook of Texas, Cloverleaf may have boasted a post office for a short period circa 1950.
A CDP is an area that the government "draws a line around" to gain statistical information as it would from an incorporated location. The United States Census Bureau lists these CDPs.
A CDP has no definite or permanent boundaries, and no local government manages it from within its current borders.
Facts About Cloverleaf Texas
Location: East of Houston, Texas, United States – 29°47'5" N 95°10'23" W
County: Harris County
Towns: Houston
Land Area: 3.3 sq miles
ZIP code: 77015
Population: 24 448
Crime Rate: Zero
Average Temperature June: 88°F – 91°F
Average Temperature January: 63°F
Universities: San Jacinto College North Campus, University of Houston – Clear Lake
Where Is Cloverleaf Texas?
The Cloverleaf Community falls in east Harris County, slightly north of the Houston Ship Channel. The I-10 is the southern edge of Cloverleaf, Alderson road marks its northern limits, Beltway 8 is the eastern border, and Evanston Road is the western edge.
There are some people residing south of the I-10 and slightly north of Alderson road who are still considered inhabitants of this area.
Nearby Locations
Cloverleaf is situated 14.4 miles east of Houston via the I-10. It sits between the Channelview CDP and Jacinto City. It's a 10-minute drive westwards to Jacinto City and takes about 7 minutes to get to Channelview.
Getting About In Cloverleaf Texas
Commuting to work takes slightly longer in Clover than the national average. The typical drive time is 28 minutes, while the national average is 26.4 minutes. Residents mostly commute by car, as per the following table.
| | |
| --- | --- |
| Commuting Method | Percentage |
| By car – alone in the vehicle | 83.1% |
| Carpooling | 11.9% |
| Work From Home | 2.0% |
| Mass transit | 0.1% |
Vehicle use in Cloverleaf
Getting About On Foot
Certain criteria, like walkability, can be important to prospective residents. Walkability refers to whether residents can walk to most amenities, like grocery stores and recreational areas. Cloverleaf has a walk score of 46, meaning you need a car to perform most errands in the community.
Public Transport
The primary public transport (bus) available in Cloverleaf is the Metropolitan Transit Authority of Harris County. There are eight stops in Cloverleaf for this bus service.
Driving In Cloverleaf
Most people own vehicles in the community, a necessity when traveling far distances to do most of your business. The nearest highways are I-10 and BW-8.
Air Travel
The closest airport to Cloverleaf is William P. Hobby Airport, 19 miles away. The George Bush Intercontinental Airport is 23 miles away from Cloverleaf.
What To Do In Cloverleaf Texas
Although Cloverleaf's demographics lean more toward people in the low-to-middle-income range, the community still offers enough entertainment within its borders.
Recreational areas
Sights and museums
Entertainment Centers
Recreational Areas
There are 16 recreational parks within 3.5 miles of Cloverleaf, and one theme park, called Players Dream Gameroom.
Sights And Museums
If you are more interested in history, science, and culture, there are plenty of sights to see within a few miles of Cloverleaf. Here are a few of the local attractions:
Proctor Museum of Natural Science
Heritage Park and Museum
San Jacinto Museum
Vince's Bridge Historic Site
Lynchburg Ferry
Military Museum of Texas
Entertainment Centers
Cloverleaf has many restaurants, pubs, and bars near the area. In addition, you can watch movies at the Tran Amusement Cinema and take in shows, concerts, and cultural displays at no fewer than five theaters in and around Cloverleaf:
A DJ Intrique Experience
Bella Luna Hall
La Chatte Gentleman Club
Illusion Reception Hall
D'Elegance
With Houston just up the road, there are endless entertainment options if you don't mind driving a bit further. Here are a few ideas to put on your itinerary.
Johnson Space Center – NASA
Minute Maid Park
Space Center Houston
Downtown Aquarium
Houston Museum of Natural Science
FAQs About Cloverleaf Texas
Is Cloverleaf A Good City To Live In?
Real estate in Cloverleaf is cheaper than in 89.6% of Texas suburbs. Rent is also more affordable there. Many residences are mobile homes. There are enough entertainment options close to home.
Is It Safe To Live In Cloverleaf?
Cloverleaf, Texas, has a negligible crime rate, making it a safer place to stay. The annual statistics show no violent crimes or property crimes taking place there.
References: