Texas is a wacky and wonderful place that oozes character and uniqueness. Its history within a short time is so colorful that it could be the subject of a dozen books. A cultural melting pot, the diversity of the Lone Star State means it could be made up of multiple countries. 
Naturally, with such a large and extraordinary place, there's a long list of fun and interesting facts about Texas. From its flag to its cuisines and its personality to its produce, you'll struggle to find a place with more quirks and quarks. 
Fun And Interesting Facts About Texas
To celebrate Texas as one of the greatest places on earth, we've assembled a list of 20 facts about Texas that make it stand out. Some of these points are simply states of fact, while others are downright fun. We'll take you all around the map to cover the most interesting facts about the wild west.
Whether you're a Texas native or a tourist planning an upcoming trip, this guide is a must-read. We recommend taking out a pen and paper or bookmarking the page because you'll want to take note of some of these fun facts. So, pour yourself a bourbon, strap up your boots, grab your stetson, and enjoy the ride.
Texas Is The Largest State In The Contiguous U.S.
Let's start with a simple one. Texas is the largest state (by land mass) in the continental United States. It spans 261.9 square miles, over 100 square miles more than California, the next biggest state (155.97 sq. miles). Yes, Alaska is bigger (570.64 sq. miles), but it's not part of the contiguous U.S.
Texas is so big that it was once independent. From 1836 to 1845, the Republic of Texas was its own country. Although it was a sovereign state during this period, Texas was also a major battleground. The Texas flag that we still see today, with its single star and blue, white, and red coloring, was the original Texas Republic flag.
Historical sites, like the Alamo, contain the lasting remnants of this time. Interestingly, Texas is the sole independent country annexed by the United States. While it has been part of the U.S. for close to 200 years now, freedom and independence remain influential proponents of being from Texas. 
Houston and Austin Are Named After The Founders Of Texas
Sam Houston was one of the most important figures in the Texas Revolution and went on to serve as the president of the Republic of Texas on two occasions. Houston led the Texan Army that won the Battle of Jacinto, which ultimately gave Texas independence from Mexico.
When the Republic was formed, Houston was elected the first president and the first state capital, Houston, was named after him. Stephen F. Austin, known as "The Father of Texas" is largely responsible for the successful colonization of Texas in the early 1800s. When the Republic was formed, Austin ran against Houston for president.
Despite being a rival candidate, Houston appointed Austin his first secretary of state. Sadly, Austin died in 1836, succumbing to pneumonia. In his honor, several places and institutions were named after him, including Austin, which eventually became the state capital in 1839. 
Texas Means "Friends"
Texas is known for being a friendly place, and if you've ever been there, we're sure you took note of the impeccable hospitality. The Texas motto has been "friendship" since 1930. Before this, it was "Remember the Alamo", which was an ode to the revolution days. 
But where does this friendship motto come from? It's believed that the name "Texas" was derived from Caddo, the language of Native American tribes that lived in East Texas. When the Spanish set foot in Texas in the 17th century, the Caddo referred to Friar Damián Massanet as "teycha", meaning friend or ally. 
Massanet interpreted the word as "Tejas". Over time, the letter "j" was swapped for an "x", and so, the name of this great state was born. 
"Six Flags" Has A Deeper Meaning
You've probably heard of Six Flags, the famous amusement park with some of the biggest and scariest roller coasters in the country. Well, the first Six Flags was built in Texas in 1961 and was originally called "Six Flags Over Texas". And this name is very intentional.
As you may know by now, Texas has a complex history, mainly due to the vast number of nations that colonized it in the past. Throughout Texas's incredible history, there were eight known power changes. The land bore flags from five different countries: France, Spain, Mexico, the United States, and the Confederate State of America. 
Although the Confederate State failed, it was an important part of history. The sixth flag is the Republic of Texas pennant between 1836 and 1845. Six Flags is now a household name among amusement parks, and many people don't realize the significance of its name. 
Texas Has The Largest Bat Population In The U.S.
Now, another fun fact about Texas. Texas is known for the rodeo with its stunning horses and brazen bulls. In the countryside, you might think about snakes and critters. Another little-known fact, Texas has an alligator population of approximately 500,000. 
But, a remarkable wildlife fact about Texas is that it has more bats than any other state. Furthermore, Texas has more bat species than any other state. 32 of the 47 native species in the Lone Star State. Mexican free-tailed bats are the most common species. 
Bat-watching is a popular pastime and there are several excellent spots to look out for them. At sundown, you can witness the sky turning black with bats. Surprisingly, the most popular place to bat-watch in the state is in Austin at the South Congress Bridge. 
Here, you can find the most significant urban bat colony in the world. Every day, when the sun goes down, up to 1.5 million bats flee their nests at the same time. The scene is like nothing you've ever experienced. If you're in Austin, hitting South Congress at sundown should be near your to-do list.
However, if you're looking for the largest colony of bats in the country, you'll need to head to Bracken Cave in San Antonio. It's believed that over 20 million bats reside there.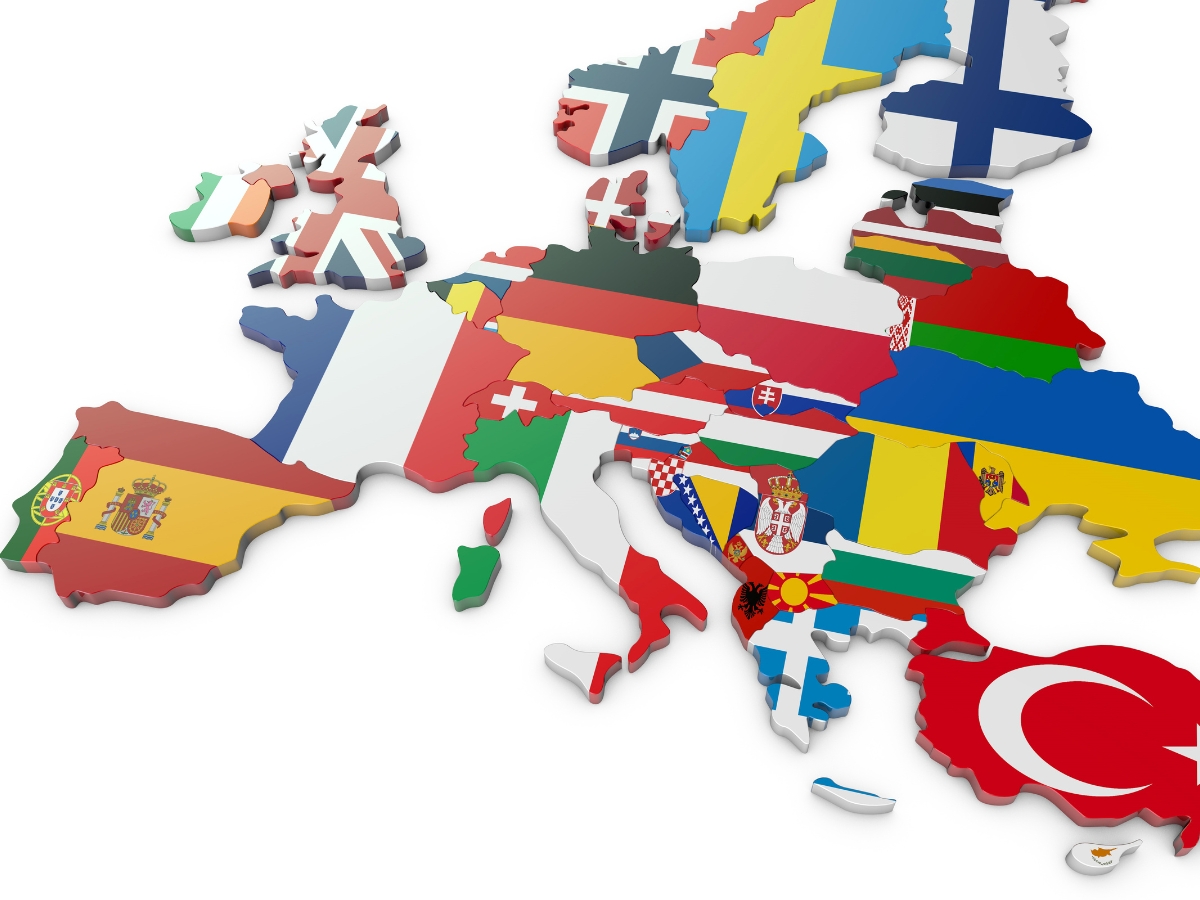 Texas Is Bigger Than Any European Country
As the saying goes, "everything is bigger in Texas". Now, in most cases, people associate this with big ranches, big open spaces, big cities, money, and big personalities. And if you've ever been to Texas, this saying is most definitely true for the most part.
But the biggest thing of all is the state itself. As we mentioned, Texas is around 261 square miles, making it the most significant state on the continent. Alaska aside, Texas is significantly larger than every other state. If you put its silhouette over Europe, it takes up several of its most significant countries. 
For even more context, if Texas was once again its independent nation, it would rank 40th on the list of most prominent countries in the world. That's 40 out of 193 nations. 
Texas Has The Highest Speed Limit In The U.S.
One of the first things you'll learn when you move to Texas is that driving is a necessity to get around. Public transport exists, but it's not always reliable. There are plenty of Ubers and taxis, but if you're ride-sharing every day, it will cost a lot of money in the long term. 
Fortunately, Texas has good infrastructure, and its roads make traveling between cities seamless. Another factor that helps you get around the state quickly is that over stretches of Texas roads, you can drive very fast. There's a section of State Highway 130 (called Pickle Parkway) where the limit is 85 mph.
85 mph is the highest legal speed limit in the country. Now, the section where this speed is allowed is just 41 miles in length, which is less than half the length of the full road. There are two other roads (I-10 and I-20) in Texas that have an 80 mph speed limit, which again, is a lot higher than the national average.
Texas Has The Largest State Capitol Building
All States have their own State Capitol building to serve as the general headquarters for governmental affairs. Each State Capitol is unique, and the designs often represent unique cultural factors and history relating to the individual state. 
The Texas State Capitol is an architectural marvel located in the heart of Austin. It was built in 1888, and the attention to detail in its design means it still looks phenomenal today. It's a popular tourist stop and hosts guided tours around its grounds and interior. 
However, what makes the Texas State Capitol so unique is that it's the biggest of its kind in the country. From the outside, it looks big, but not so big that it would earn that title. But, in 1993, renovations created a new underground section that almost doubled the size.
The State's Official Dish Is Chili
Texas barbecue is the stuff of legend. It's an art form truly mastered in the Lone Star State. While everyone has their favorite spots, ask around, and you'll find that most locals have the same opinion: virtually all Texas BBQ joints are good. 
But did you know that the official state dish of Texas is chili? Since 1967, Texas has hosted the International Chili Cook-Off. Chili enthusiasts from far and wide would put their skills and recipes to the test and present their best efforts to a panel of judges to determine a winner. 
In 1977, chili was deservedly named the official state dish. So, in addition to your list of BBQ restaurants to visit, be sure to add some popular chili spots to your itinerary. There have been several hilarious quotes about chili and its importance in Texas. One of our favorites comes from the entertainer Will Rogers, who said:
"One cannot be a true son or daughter of this state without having his taste buds tingle at the thought of the treat that is real, honest-to-goodness, unadulterated Texas chili."
Texas Leads The Nation In Energy Production
Texas leads the way when it comes to energy production in the U.S. It produces and refines more crude oil than any other state and accounts for over a quarter of the natural gas in the country. However, Texas not only generates energy from fossil fuels, it's also a major producer of renewable energy.
For over 17 years, Texas has generated more wind power than any other state. In 2022, its wind-sourced energy accounted for 26% of wind power in the country. This was twice as much as Florida, which ranks second for wind-sourced energy production. 
Texas has a natural-forming wind belt that helps with its energy production. One of the biggest wind farms in the world is called Los Vientos Wind Farm. It's located in Starr County in south Texas and features 400 large turbines capable of powering 120,000 homes and major cities. 
Texas Has More Farms Than Any Other State
Here's an interesting fact that may not come as much of a surprise. Texas has more farms than any other state, with 247,000 in total. This makes up over 12% of the total number of farms in the U.S. With 126 million acres of land, Texas has twice as much as Montana, which has the second most farms.
This farmland isn't just acres of unused land. The vast majority of the land is used for rearing livestock or growing crops. Texas is a major distributor of food, animals, and meat. Some of its primary exports are cattle, horses, sheep, citrus fruits, corn, and pecan nuts. 
Texas Has The Biggest State Fair In The U.S.
The Texas State Fair is by far the biggest state fair in the U.S. It's been running since 1886, with the only cancellations occurring during the First and Second World Wars and the pandemic. It usually kicks off on the last weekend of September and ends around three weeks later.
While the state fair was well attended 130 years ago, today, it's a whole different animal. Approximately three million people attend every year, and the fun and entertainment are unrivaled. You can expect everything that you find at a regular state fair, like food, drinks, and music. 
But with the Texas State Fair, things are a little bigger. Fari Park, Dallas, is the regular venue. The Red River Rivalry football game between Texas and Oklahoma is generally the main event. However, there's also a rodeo, cultural events, livestock shows, live music, art competitions, family shows, a circus, and the Midway amusement park.
"Keep Austin Weird" Is The State Capital's Offical Slogan
It's normal for cities and states to have nicknames, but usually, they're related to a cultural trait or local animal. But in typical Texas fashion, its state capital of Austin has a rather unusual motto: "Keep Austin Weird". And, we must admit, it's a very fitting slogan. 
Austin has always been a vibrant and quirky city full of art, culture, music, food, and weirdness. But the slogan was born out of a rather chance encounter. In 2000, a local librarian, named Red Wassenich, called into a radio show to donate money when he was asked a fairly straightforward question. 
The host asked him why he was donating money, and Wassenich responded plainly, "I don't know. It helps keep Austin weird". Even before the days of internet virality, the slogan did the rounds immediately and was popping up everywhere. The city fully embraced the term, and it's still alive and well today. 
However, the term's meaning is no longer just a funny phrase. It has evolved. Since it became synonymous with Austin, "Keep Austin Weird" is now related to supporting local businesses and helping keep Austin its authentic self. What could've been one of the embarrassing facts about Texas is now an essential part of its modern history. 
It's Home To The Live Music Capital In The World
Another great phrase associated with Austin is that it's the Live Music Capital of the World. Step aside Nashville, Austin is the go-to for music. Joking aside (we love Nashville too), Austin has more live music venues per capita than any other city in the country.
Day or night, you can catch a live performance with world-class musicians. Some of the best spots in town are Six Street, Rainey Street, South Congress, and East Austin. As well as having amazing live bands in bars and venues, Austin also hosts several major music festivals each year, like Austin City Limits and South by Southwest.
Dr. Pepper Was Invented In Texas
Dr. Pepper, one of America's favorite sodas was created and brewed in Texas. It was first made in Waco in 1885 by a pharmacist and fizzy drink lover, named Charles Alderton. His original intention was to develop a syrup-style drink that smelled like his pharmacy.
Although the recipe is still a secret and is stored in two different parts in separate Dallas banks, Dr. Pepper remains one of the most popular beverages in the country. However, it took two years after its inception to be sold outside of Waco when the company began its first national marketing campaign.
Texas Has a "Quadrillion Dollar" Time Capsule
In 1968, the Helium Centennial Time Columns Monument was built in Amarillo, Texas, to mark the 100-year anniversary of the discovery of helium in the city. As part of the unveiling ceremony, several time capsules were sealed onto the monument.
Inside one of these time capsules, they placed a passbook for a bank account with a $10 bill. The time capsule was marked to be opened in one thousand years. By then, the money is expected to be worth a quadrillion dollars. So, if you're around in 2968, be sure to stake your claim for the prize.
Texas Has The Largest Convenience Store In The World
Next, we have one of the more unusual facts on the list. In the city of New Braunfels, near San Antonio, you can find the biggest convenience store in the world. In addition to food and snacks, Buc-ee's also sells fuel and boasts over 100 pumps.
The entire site spans an incredible 66,335 square feet. Inside the store, you'll find whatever you need for a pitstop, from food to drinks and from clothes to electronic devices. Because of its notoriety, Buc-ee's also sells souvenirs. And it's always clean and even won an award for America's best restroom. 
So, if you're traveling on Interstate 35 between San Antonio and Austin, make sure to grab your snacks and fuel at Buc-ee's. If your car needs a wash, you can ride through the 255-foot conveyor at the world's longest car wash.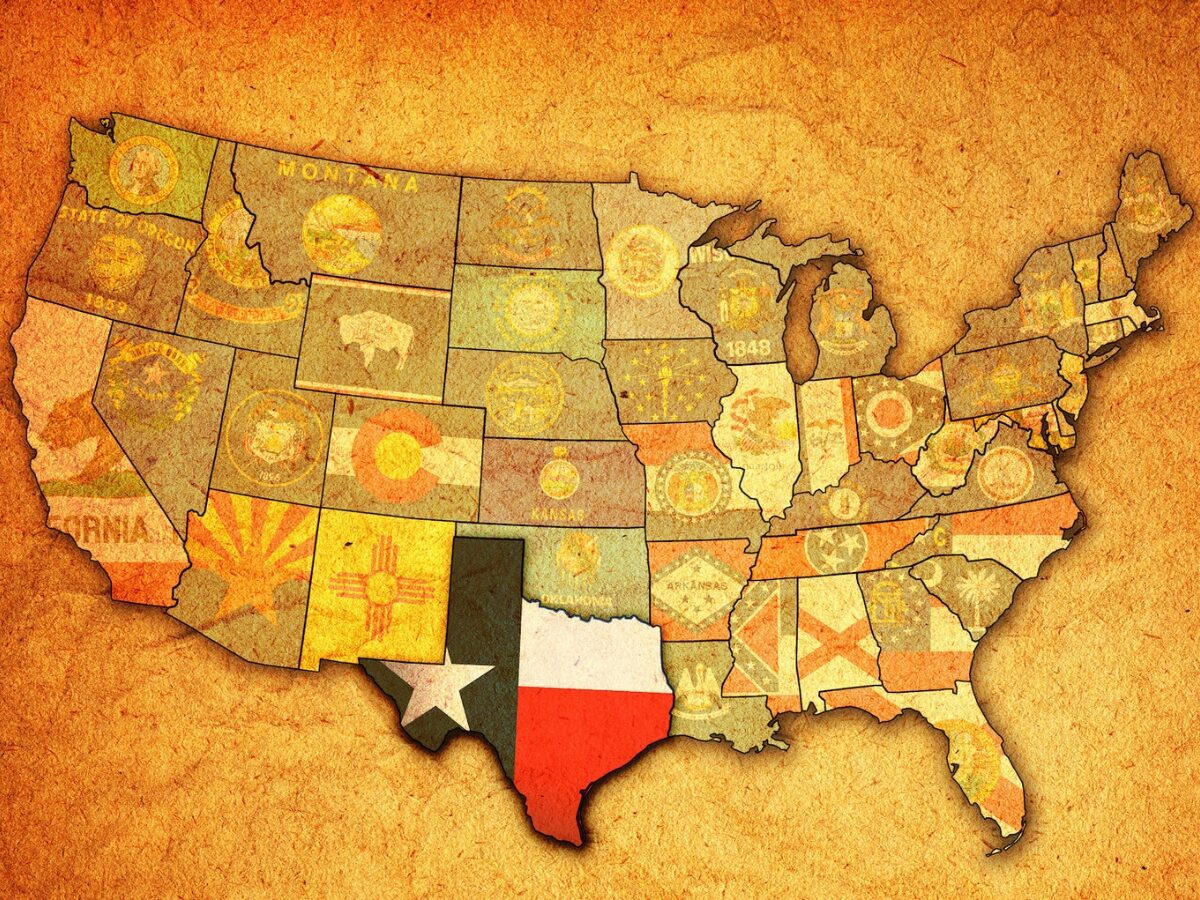 Texas Is Home To 3 Of The Top 10 Cities In The U.S.
Texas has three of the ten biggest cities in the United States. Houston is the biggest city in Texas and the fourth biggest in the country, with over 2.3 million people. Next, we have San Antonio that's the second biggest city in the state and the seventh in the nation, with over 1.47 million.
Dallas is the third biggest city in Texas and the 9th largest in the U.S., with a population of just under 1.3 million. Austin and Fort Worth are also significant cities and lie just outside the top 10 at 11th and 16th place. Interestingly, Texas is also home to Luckenback, one of the smallest towns in the U.S.
The Country's Largest Rose Garden In In Texas
If you've ever dreamed of walking through a garden filled with roses, book a trip to Tyler, Texas. There, you'll find the largest rose garden in the U.S. The garden is 14 acres in size, and over 38,000 different rose bushes decorating the garden. 
There are also 500 different species of roses in the garden. Did you even know that there were that many species of roses? We certainly didn't. October is the best time to visit as you can catch the Texas Rose Festival that's been in operation for 30 years.
The Official State Flower Is The Bluebonnet
To finish our list and in-keeping with the flower theme, the final interesting fact about Texas is that its official state flower is the bluebonnet. While we might be biased, we believe this to be one of the prettiest state flowers in the country.
The stems can grow from six to 18 inches and are decorated with luscious blue velvety leaves. From a distance, the flowers resemble small, delicate peas. As the state flower, they're planted along roads and highways by local departments, providing beautiful backdrops for any journey. 
References