Travel trailers are standard in Texas. People love to use them for long camping trips or traveling around the state or country to see the sights. While they are a fun addition to any household, they have their own rules and regulations you need to follow set out by the state of Texas. 
Travel trailers that weigh 7,500 pounds or more must pass an annual safety inspection to be legal for travel in Texas.
If you have a trailer and want more information on safety inspections, you can find all relevant information below. Ensure you don't neglect the inspection. The consequences can be unpleasant and dangerous.
Do Travel Trailers Require Inspection in Texas?
All travel trailers over 7,500 pounds require an inspection in Texas.
So if you have a travel trailer over the weight threshold, you will need to have it properly inspected to receive a passed inspection sticker from the State of Texas.
Where To Get an Inspection
In Texas, there are many inspection centers, and you often don't need an appointment to get an inspection.
It's not hard to find a location to get your travel trailer inspected. Sometimes these centers can be part of gas stations or dealerships, and they're easy to locate as they usually have signs advertising their inspection services.
Sometimes it's easier to go to truck shops and specific trailer inspection locations, which are common in Houston and other major cities in Texas.
How Long Does the Inspection Take?
Trailer inspections usually only take 10 to 30 minutes.
Some inspectors work faster than others, but once the inspector is ready to review your trailer, it is a quick process. If something is wrong, the process can take a bit longer as they need to evaluate the severity of the issue.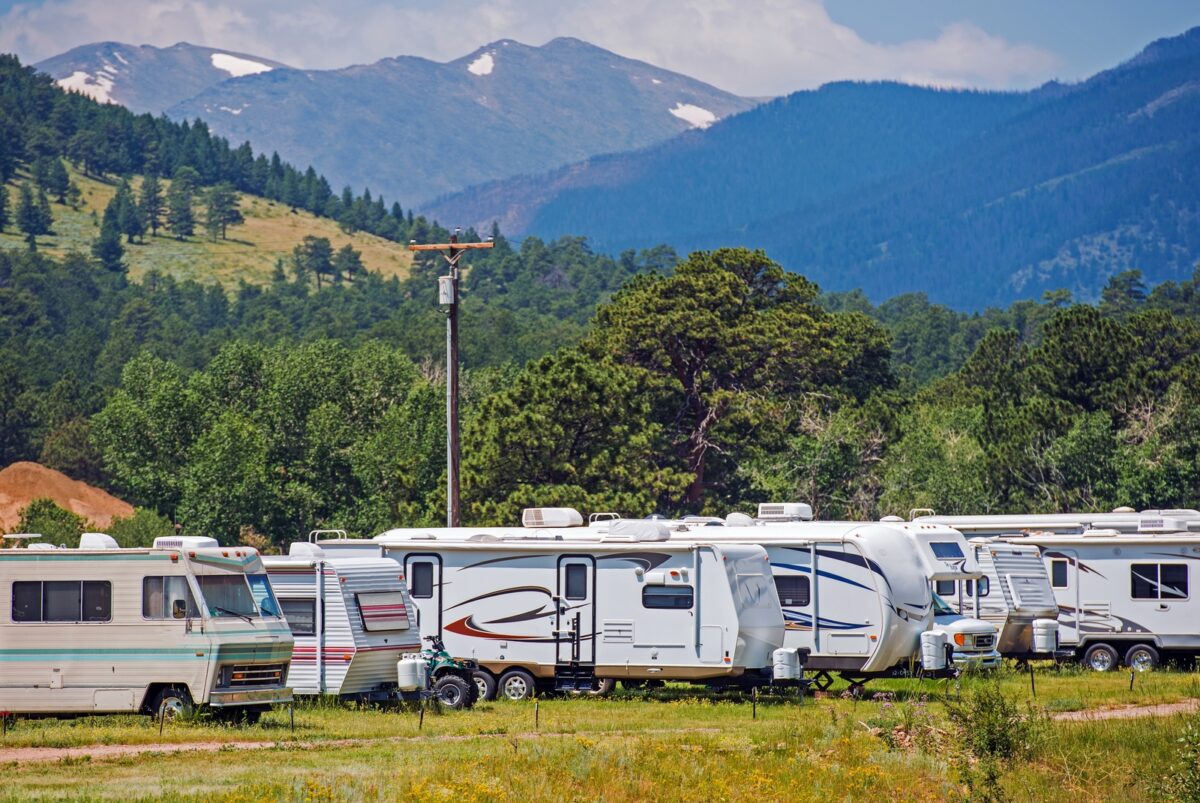 What the Inspection Entails
You should check all of the safety elements on your trailer before going to the inspection center.
It's good to know what they will check for before you go to the inspection. Most travel trailer owners perform a preliminary inspection so issues are fixed before dealing with a failed inspection. Getting a rejection sticker puts more pressure to get any issues fixed quickly.
Brakes
Possibly, the most important part of the inspection is the brake check to make sure they're in working order.
Tires
Trailer owners often overlook their trailer tires. They assume they're usually all set, but the tires are the most worn part of a trailer, so it's an important aspect to have inspected.
Wheel Assembly
Having the wheel assembly checked is crucial if you assemble the trailer yourself. Some trailers can be built or assembled at home, but the wheel assembly may not be perfect, so best to have a professional check it out. 
Safety Guards or Flaps
The safety guards or flaps are only part of the safety inspection if there are four tires or more on the rear axle. Otherwise, not every inspector will check these guards as they're less influential in the safety of the vehicle. 
The above parts are the most critical aspects of the inspection, but below is a list of other elements they check during a trailer safety inspection. 
Two Tail Lights
Two brake lights
One License Plate Lamp
Rear Red Reflectors
Turn Signal Lights
Clearance Lights
Side Marker Lights
Side Reflectors
Serial or Vehicle Identification Number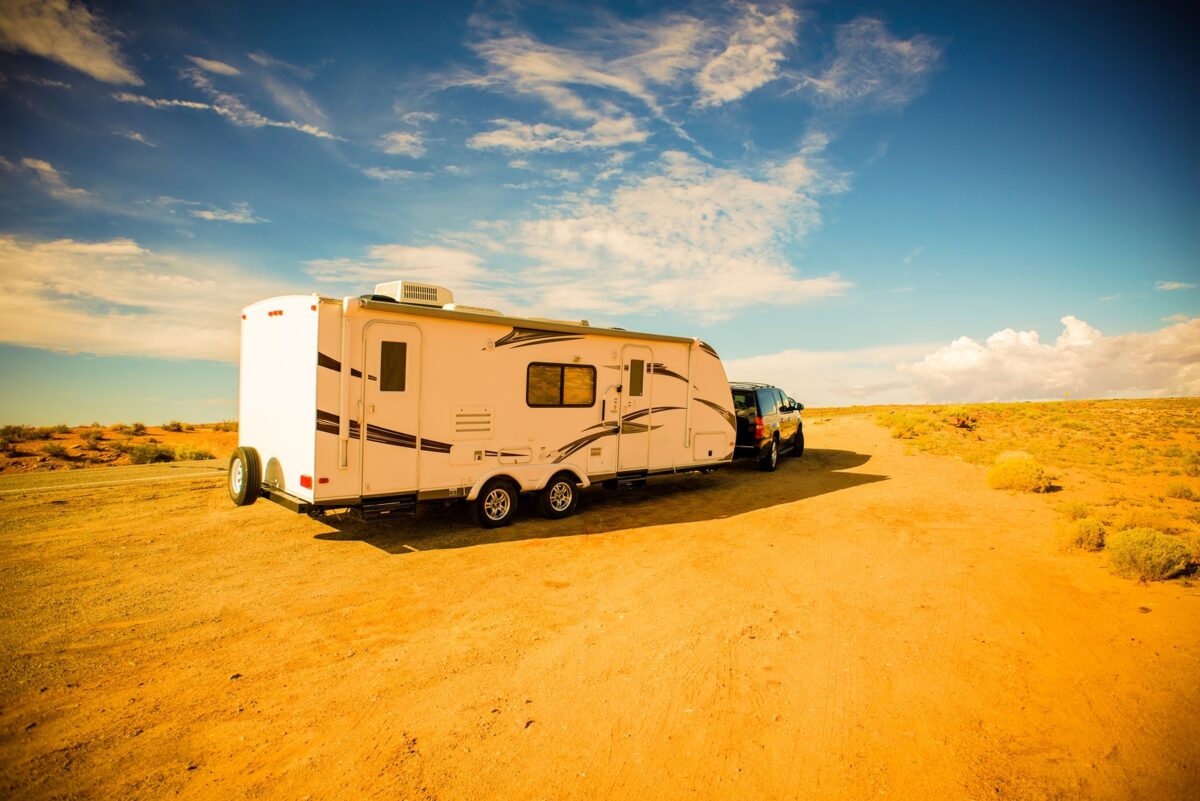 What Happens If You Don't Get an Inspection?
There can be hefty consequences if you neglect to get your travel trailer inspected in Texas. To renew or acquire a registration for your travel trailer, which is legally necessary, you need to pass the safety inspection.
Travel trailers require their own vehicle registration separate from the vehicle towing the trailer. Therefore, they need registration renewal or acquisition.
If you get pulled over while towing a trailer that is not state registered or has an expired registration, you can receive a costly ticket. These tickets range from $100 to $200, which can be added on top of any tickets you get for moving violations.
In the worst scenarios, a police officer may not let you drive the trailer away, meaning it would need towing, costing you even more money.
Aside from the legal issues associated with skipping an annual safety inspection, you also risk driving a trailer with undiagnosed safety issues.
Safety inspections check wheels, axles, bearings, and more to ensure the trailer can safely travel on the road. Skipping this inspection could pose a threat to your safety and the safety of those driving with you. 
Travel Trailers FAQs
In addition to answering, do travel trailers require inspection in Texas? These are other commonly asked questions about travel trailers and inspections in Texas. 
Do cars in Texas require an annual inspection?
All cars and passenger vehicles in Texas require an annual safety inspection before they can be deemed street-legal. Not all passenger vehicles, but some also require an emissions test. Usually, passenger vehicles requiring an emissions test are larger trucks or SUVs with poor mileage. 
Do RVs in Texas require an annual inspection?
Any RV or motorhome over 4,500 pounds will require an annual inspection. These vehicles require an annual emissions test before they can be road-ready.
What is the average weight of a travel trailer?
Travel trailer weights range from 1,000 pounds up to 9,000 pounds. But the average weight of travel trailers is about 5,200 pounds, meaning most travel trailers in Texas do not require an annual inspection to be street legal.
Do farm trailers require an inspection in Texas?
Farm trailers do not require the same annual inspection that is required of other travel trailers. A farm trailer is any trailer used for transporting agricultural products, livestock, farm supplies, or participating in equine activities or livestock shows.
How much does a trailer inspection cost?
Luckily, the cost of a trailer inspection in Texas is super affordable. A trailer inspection will cost a maximum of $7, but it could be even cheaper depending on what inspection station you choose to visit. 
References