Houston is the most populous city in Texas and is home to over 2.3 million people. It's undoubtedly one of the best places to live in the Lone Star State, and it often ranks among the top cities in the entire country. Located beside the Gulf of Mexico, it's one of the most diverse cities in the U.S. 
While Houston is known for being affordable compared to other significant spots in the U.S., it has grown a lot in recent years. Many Texas newcomers are looking for upcoming cities near Houston to relocate to. Fortunately, several excellent options exist for people from all walks of life. 
Major Cities Near Houston
Despite being the second-largest state in the country, the five biggest cities in Texas are located very near to one another. So, if you're considering relocating, each state's major city is a short drive away. While each city is unique, they're all excellent places to live, whether you're single or with your family. 
Next, let's take a closer look at some of the most popular cities near Houston. We're sure you'll have at least heard about these places, even if you haven't been to any of them before.
Dallas
Dallas is 239 miles from Houston, and will take you just over three and a half hours to get there by car. It's a smaller city with a population of 1.3 million. However, it's a thriving city with affordability, a strong economy, and plenty of job opportunities. 
Another bonus of living in Dallas is that it's considered one of the safest cities in the U.S. The city is well-kept and offers plenty of things to do. There's a diverse nightlife that combines rodeo and country bars with fine dining and clubs. It attracts plenty of tourists because of the famous Stockyards.
Home to the Cowboys and Mavericks, Dallas is a big sporting city. Residents are friendly and social, making it easy to find new friends. However, summers can get very hot and there are occasional tornadoes. If you work downtown, rush hour traffic can get pretty hectic.
Forth Worth
Forth Worth is one of the fastest-growing cities in Texas right now. Located just outside of Dallas, it's 262 miles from Houston and takes just shy of four hours to drive to. Many people are relocating to Fort Worth because of its thriving job market, affordability, and authentic Southern charm.
In addition to being affordable, Fort Worth is generally regarded as being a very safe city. Moreover, because of its expansion in recent years, there are plenty of modern neighborhoods and new build sites available. Despite being so close to Dallas, Fort Worth has its own unique feel.
It's a very artistic city, and you can find examples of this around every corner, whether it's a museum, a street artist, or a boutique cafe. Some argue that Fort Worth has the best coffee in the state, thanks to its artisan barista scene. Locals enjoy getting outdoors, and there are social and sports clubs aplenty.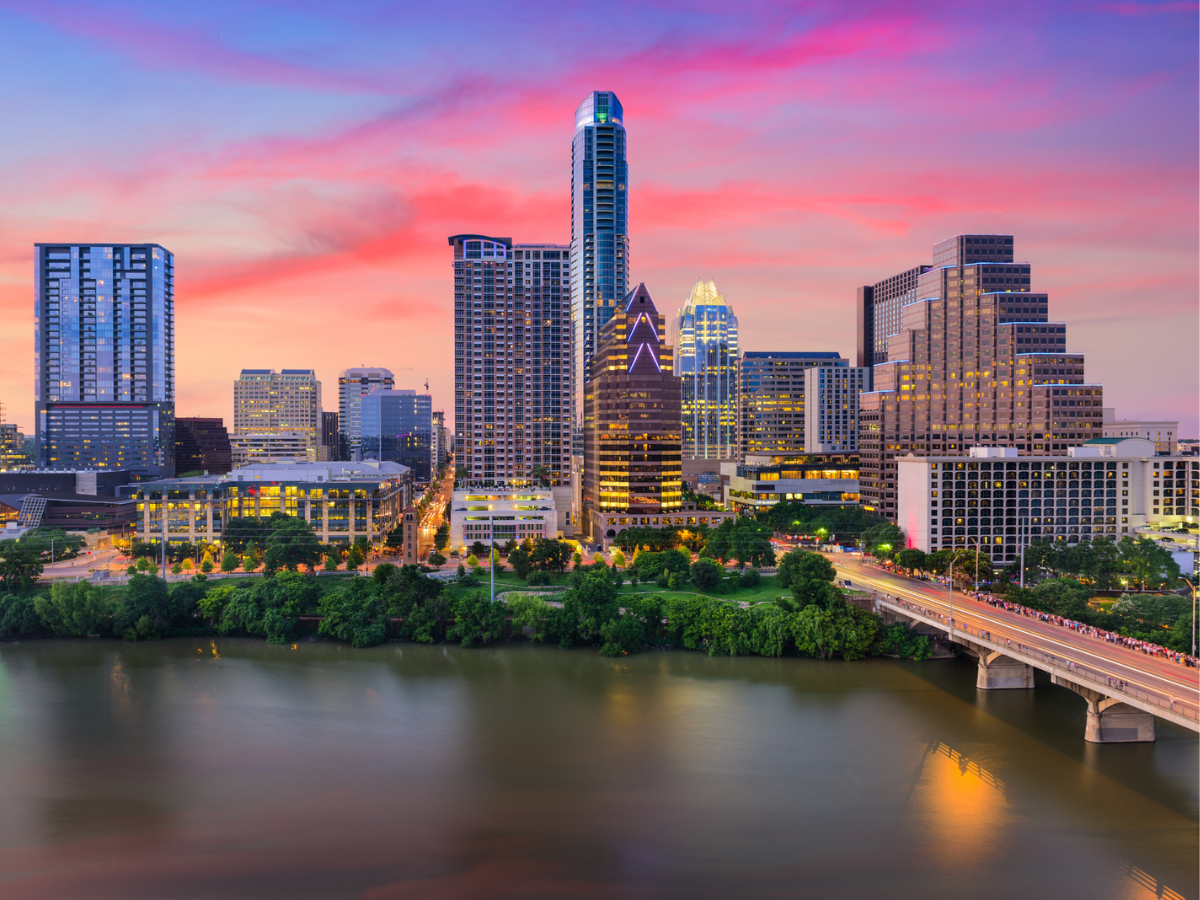 Austin
Austin is the hottest city in Texas right now and most definitely one of the most trendy cities in the country over recent years. A once hidden gem in the Lone Star State, Austinites used to send a warning slogan to newcomers to "keep Austin weird."
Although it's become more mainstream, Austin is still a magical place to live or visit. It's the music capital of the United States and has some of the most legendary barbecue restaurants in the country. Austin is the most liberal place in Texas and is perfect for families and young professionals.
Austin is just 162 miles from Houston, taking just two and a half hours in a car along the State Highway. The tech sector in Austin has catapulted of late and is one of the reasons for the influx of people.
The only downside of Austin's soaring popularity is that the cost of living is somewhat higher than the other cities we've mentioned. It's one of the most fun cities you can visit but it's by no means cheap, especially if you enjoy eating out and hitting the bars on the weekend.
San Antonio
You can cover the 197 miles between Houston and San Antonio in a three-hour car journey. It's a historical city and widely considered one of the best places to live in Texas, due to the safety, affordability, culture, and food. San Antonio has a broad mix of residents, from retirees to young professionals.
The city has a large immigrant population, creating a melting pot of culture. San Antonio was the birthplace of Tex-Mex, and its food is legendary. It's also quite a popular tourist destination and has hugely popular attractions like the Alamo. The San Antonio River runs right through the city, creating a magical ambiance along the Riverwalk.
If you want to live in a bustling city center, San Antonio's downtown area is the most affordable city hub in the state. There you can enjoy a vibrant culinary and nightlife scene. Much like the rest of Texas, San Antonio's job market is booming, ensuring you have plenty of opportunities to thrive.
Cities 2 Hours From Houston, Texas
If you're trying to avoid major cities or simply don't want to travel hundreds of miles from Houston, there are several other nice cities near Houston. Although most of these are significantly smaller than Houston, the majority have everything you could need, just on a smaller scale.
To help narrow your search, we've created a shortlist of five excellent cities that are two hours or less from Houston. So, even if you need to head to the big city every once and a while, a short drive will get you there in no time.
Galveston
Galveston, Texas is a charming beach city just over 50 miles south of Houston (one hour's drive). Galveston is actually an island and virtually its entire 32-mile-long coast meets the Gulf of Mexico. It's home to just 52,000 people but it's a very popular vacation spot in summer.
Galveston is known for its stunning Victorian architecture that you won't find in most other Texas cities. Due to its tourism trade, Galveston has many top-rate restaurants and attractions, including the Galveston Island Historic Pleasure Pier, Moody Gardens, and Galveston Island State Park.
Locals are friendly, living costs are relatively low, and there are ample job opportunities in this fine city. The beaches are a welcome escape in the evenings or on weekends, and if you live close enough, you'll hear the soothing waves all day every day.
There are several excellent schools in the region and the University of Texas Medical Branch at Galveston is one of the best healthcare education facilities in the state. One thing to be wary of is the crime rate. Although Galveston has many prosperous neighborhoods, some areas are high crime zones.
Bryan
Located almost 82 miles from Houston, Bryan is a one-hour, 45-minute drive away. With a population of 87,792 people, it's a decent size city with a small-town vibe. It's known for its suburban feel and authentic Southern hospitality.
A twin city to College Station, Bryan is home to a lot of students from Texas A&M. It's a busy city, and there's always something to do, especially if you enjoy nightlife and weekend entertainment at bars, clubs, or parks. Bryan is well-serviced, with excellent shopping malls, retail stores, and a variety of restaurants.
Small and locally owned businesses are scattered throughout Bryan. However, its primary industries are healthcare, education, and hospitality. While jobs aren't as plentiful as in Houston or other major cities, there's certainly no shortage of employment opportunities in Bryan.
Kountze
If you're a nature lover looking to escape the urban lifestyle, Kountze may be the perfect destination. Located just an hour and 45 minutes from Houston (85.6 miles), this small railroad town has a population of approximately 2,000 people.
The city itself is small and understated, with friendly residents. There are plenty of schools despite the small population. Surrounded by lush forests, the primary industry in the city is lumber. However, the main attraction to Kountze is its proximity to the Big Thicket. 
In fact, Kountze is often called "The Gateway to the Big Thicket." If you're unfamiliar with what this is, the Big Thicket is a 113,000-acre nature preserve that's less than eight miles from Kountze city center. The National Preserve has virtually endless shares of land for you to explore.
It's a popular area for hiking and has a wide variety of trails suited to hikers of all experience levels. There are also several waterways within the preserve, and many visitors enjoy paddling boats as their primary form of transport through the backcountry. It's also a popular place for campers.
The Big Thicket National Preserve is a significant destination for fishing and hunting. During the fall and winter seasons, hunters visit the preserve in pursuit of hogs, deer, rabbits, and waterfowl. 
Port Arthur
Port Arthur, like Galveston, is a coastal city near Houston. You can cover the 100 mil journey by car in just under an hour. While Port Arthur has some pretty beaches and peaceful waterways, it's best known for its black gold. Petroleum is by far the most important industry in the city.
The majority of the United State's petrochemical refining takes place in Port Arthur and it has attracted several major energy companies. If you're in the energy business, this is an ideal Texan location, outside of the big cities yet within touching distance.
You'll be happy to hear that cost of living here is over 25% lower than the national average. In addition to the petroleum industry, Port Arthur is also quite scenic. With a population of over 55,000 people, there are museums, good restaurants, and music venues.
It's a family-friendly city and a popular spot for outdoorsy types. From parks to hiking trails to beaches, there is always beautiful nature to explore. The Sabine Lakeshore Drive waterfront is one of our go-to spots in Port Arthur.
Other Affordable Cities Near Houston, TX
Texas is the second largest and second most populated state in the entire country. There are over 1,200 cities throughout the state. To give this context, California, the most populated state in the U.S., has just 482 cities. So, naturally, there are plenty of more cities near Houston.
If you want to consider all of your options, here are some smaller cities located within a two-hour drive of Houston:
Lufkin
Lexington
Shiner
Milano
Buffalo
Bastrop
Providence
Paige
La Salle
Crockett
Brenham
Places In Houston, Texas To Live
If, after reading this guide, you decide that the cities near Houston don't live up to your expectations, perhaps you should reconsider Houston City as your destination. As the city continues to expand, there are several fantastic emerging neighborhoods. 
Depending on your profession, lifestyle, budget, and whether you have a family or not, some of these districts may suit you better than others. With that, let's take a look at the best places in Houston to live.
Downtown Houston
Population: 18,057
Cost: Above average: Rent – $1,997, Buy – $295,000
Availability of housing: Competitive market
Best suited to: Young professionals
Other highlights: In the heart of the city, everything is at your fingertips
Cinco Ranch
Population: 18,399
Cost: Above average: Rent – $1,756 p/m, Buy – $381,500 (median)
Availability of housing: Good availability
Best suited to: Families
Other highlights: Good schools, diverse, and good local amenities
Sugar Land
Population: 110,272
Cost: Above average: Rent – $1,828 p/m, Buy – $344,400
Availability of housing: Good availability
Best suited to: Families
Other highlights: Good schools and outdoor activities
The Woodlands
Population: 115,716
Cost: Above average: Rent – $1,617 p/m, Buy – $390,800
Availability of housing: Good availability
Best suited to: Families
Other highlights: Good outdoor activities, schools, and local amenities
Kingwood
Population: 36,474
Cost: Above average: Rent – $1,731 p/m, Buy – $227,338
Availability of housing: Good availability
Best suited to: Families
Other highlights: Very safe area
Katy
Population: 21,926
Cost: Above average: Rent – $1,200 p/m, Buy – $290,200
Availability of housing: Good availability
Best suited to: Families and retirees
Other highlights: Diverse and affluent neighborhood
Clear Lake
Population: 40,213
Cost: Above average: Rent – $1,640 p/m, Buy – $295,125
Availability of housing: Good availability
Best suited to: Families and young professionals
Other highlights: Wide availability of amenities, parks, restaurants, and cafes
References