There are many exciting things to see and experience in West Texas. Its geographical diversity makes it an ideal destination for a solo, couple's, or family vacation.
West Texas' atmosphere has a peaceful vibe that always leaves people feeling relaxed. Maybe it's the effect of being surrounded by stunning scenery or the healing power of its hot springs. Not to mention that this region has one of the tastiest cuisines in the country!
In this article, we'll introduce you to enchanting West Texas. We'll also guide you to some coolest things to do, restaurants to try, and lodging options to round out your stay, so let's get started!
Learn More About West Texas
Texas is the second-largest state in the U.S., after Alaska, accounting for 7% of total country land. It makes sense why it was split into two distinct regions: West Texas and East Texas.
West Texas consists of 30 counties spanning approximately 39,800 square miles. It stretches from Mason and Brady in the east to the Rio Grande south of Dryden and north to Seminole.
In this part of Texas, you'll fall in love with the scene of a vast desert and rugged mountains. In actuality, West Texas' arid landscape is a part of the Chihuahuan Desert. This desert, which also covers parts of Mexico and New Mexico, is the largest in North America.
What's more, West Texas is home to the state's highest mountain peaks, with the top three ranking as follows:
Guadalupe Peak
Bush Mountain
Shumard Peak
This region's spectacular peaks make it a must-visit destination for hiking, mountain climbing, camping, and other outdoor activities.
This helps to make up for the fact that West Texas has few bodies of water and is dry most of the year. So much so that legend has it that Native Americans, who once inhabited West Texas, were wary of crossing this dry land.
Yet, don't get us wrong; West Texas still has some dazzling lakes, like Lake Amistad and Lake Balmorhea!
Summers are hot and humid in this region, while winters are cold and windy. Throughout the year, the temperature ranges from 39°F to 96°F, with temperatures rarely falling below 27°F or rising above 102°F.
What to Do in West Texas?
West Texas is quite generous with what it has to offer. It's rich in art, nature, culture, and mystery! In the spirit of mystery, don't miss out on visiting Marfa. Maybe you'll get lucky and see the renowned Marfa lights, which remain unexplained.
Now let's take you through our list of the top five things to do in western Texas:
1. Visit the Big Bend National Park
The Big Bend National Park is located in southwest Texas and is a popular destination for both tourists and locals. Several activities are available there, even for children, so if you're planning a family vacation, you know where to start!
From a distance, this park appears to be a wide-open desert with multiple mountain peaks. Closer inspection reveals a captivating landscape filled with geological structures dating back millions of years and wildlife.
You'll catch a glimpse of history there as you walk by dinosaur bones, sea fossils, and rivers chiseling canyons in ancient limestone. This park is also home to 450 bird species and 1,200 plant species.
During your visit to the park, you can enjoy hiking, birdwatching, scenic drives, and a lot more. So, if you need to extend your stay, which we're sure you will, you can camp there.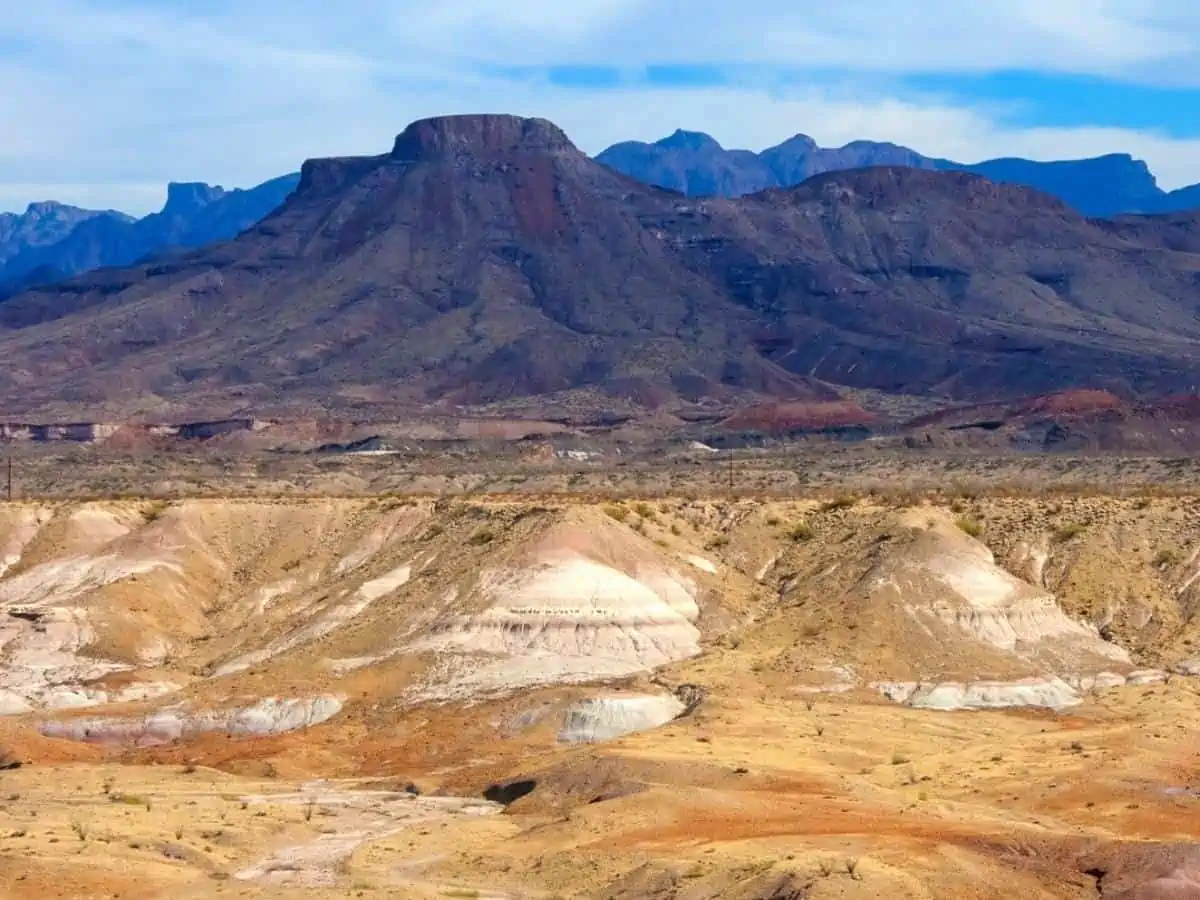 2. Take a Dip in Chinati Hot Springs
Who doesn't enjoy relaxing desert getaways, especially ones with hot springs? The Chinati Hot Springs is located near Presidio in the Chihuahuan Desert. They're a little out of the way, but well worth the trip!
Soaking in these hot springs is such a fascinating experience. Your body will enjoy the warmth and healing properties of the water while your eyes will take in the beauty of the mountains.
In case you didn't get enough of this magical setting, there are several lodging options nearby.
3. Stargaze at the McDonald Observatory
If you want to have a surreal moment in West Texas, you should definitely visit the McDonald Observatory in Fort Davis. It hosts a variety of events, such as solar viewings and star parties, where you can virtually travel to outer space!
This observatory has four advanced telescopes that are used for research by astronomers. One of them is the Hobby-Eberly Telescope (HET), which is one of the world's largest optical telescopes. It's optimized to look for planets, distant galaxies, exploding stars, and much more.
4. Walk Along Art at the Chinati Foundation
The Chinati Foundation is a visual treat for anyone who appreciates art. This contemporary museum is situated in Marfa on 340 acres of land that was previously occupied by Fort Russell's military base.
The Chinati Foundation primarily exhibits fixed art installations by three legendary artists, John Chamberlain, Dan Flavin, and Donald Judd. The main pieces on display are 15 concrete works scattered throughout a lush open space and 100 aluminum pieces showcased in sheds.
5. Swim in the World's Largest Spring-Fed Pool
You should totally go swimming in the world's largest spring-fed pool at Balmorhea State Park! Every day, over 15 million gallons of water flow from the San Solomon Springs into this pool.
The pool is 25 feet deep, so get your scuba diving gear ready to meet the many beautiful fish species that live beneath the surface. In fact, two of these species, the Pecos gambusia, and the Comanche Springs pupfish, are endangered.
Where to Eat in West Texas?
The majority of West Texas dishes will leave you with a lingering craving. This region is known for its tasty food, a fusion of southern, Tex-Mex, and Mexican influences.  
You can never go wrong with this region's signature dishes, which include asado, tamales, tacos, burritos, barbecue, and fried chicken.
Do you know what competes with donuts in West Texas? It's a small treat introduced to western Texas by Czech immigrants called kolach. It's a soft puffy dough with sweetened cheese or fruit in the middle; you need to try this delicacy!
To make sure you try some of the best restaurants in West Texas, check out the list below:
Cattleman's Steakhouse: One of the best steakhouses in town. It's in Fabens, El Paso County.
Czech Stop: A great place to try kolach and other delicious pastries. Located in the city of West.
Hopdoddy Burger Bar: Serves flavor-packed burgers and refreshing booze. It's situated in Midland.
Starlight Theatre Restaurant: Has a unique vintage feel. Serves authentic West Texas cuisine.
Front Porch Coffee Co.: Great brunch experience with tasty bakeries. It's found in Abilene.
Gus's World-Famous Fried Chicken: Known for its mouth-watering fried chicken. Located in Fort Worth.
Cochineal: An exceptional fine dining experience in Marfa. Gourmet food is their specialty.
Where to Stay in West Texas?
There are plenty of remarkable places to stay in West Texas; various lodging options suit all tastes. That being said, three accommodation options can truly give you the full West Texas experience:
1. Basecamp Terlingua
How does sleeping under the twinkling stars sound? The Basecamp Terlingua will allow you to reconnect with nature in a luxurious setting.
You'll be sleeping in a minimalistic bubble in the desert with a sweeping view of the sky. Most bubbles have hot tubs, and some even have private pools.
2. Gage Hotel
The Gage Hotel is one of the most iconic hotels in West Texas. It can be found in Marathon, Brewster County. The hotel rooms have an unmatched rustic aesthetic that reflects the culture of the region.
The hotel has its own famous restaurant, the 12 Gage, which serves West Texas cuisine with a "gourmet twist," as they put it. They also have a cozy cafe called V6 Coffee Bar and a lively bar called White Buffalo Bar.
3. El Cosmico
El Cosmico in Marfa is like a West Texas wonderland. It's more of a campground with vintage trailers, tepees, yurts, and other cool accommodations spread out over 21 acres.
The best part is that each lodging option has its unique vibe, so we're sure you'll find something that matches your taste.
West Texas FAQs
Is West Texas a Good Place to Live?
Looking at various aspects of West Texas as a place to live, we can conclude that it's a good one. To begin with, it's not overpopulated; in fact, it's the least populated region of Texas, with only 2.3% of the state's total population.
Moreover, some of its cities are quite inexpensive to live in. For example, in El Paso, you can buy a home for 57% less than the national typical home value. Not to mention, most West Texas residents are friendly and accommodating.
What Is West Texas Known For?
est Texas is famous for various reasons, starting with its distinct geographical features. It encompasses a part of the Chihuahuan desert and has the state's highest mountain peak, Guadalupe Peak. This region is also home to the only two national parks in Texas:
1. Big Bend
2. Guadalupe Mountains
The West part of Texas is also renowned for its flavorsome food culture. Mexican cuisine, in particular, is known to be perfected in this region.
References