Deciding where to relocate is an important life decision. Although the cost of living, employment, and service availability matter, quality of life is a consequential deciding factor. Comparing Texas to Florida, there are many similar advantages. However, each state has pros and cons that must be considered.
Texas and Florida are appealing, but all things considered, Texas is a better relocation option than Florida. Texas has great employment opportunities, and the living costs are considerably less. Texans are friendly, and the state has rural, town, and city dwellings.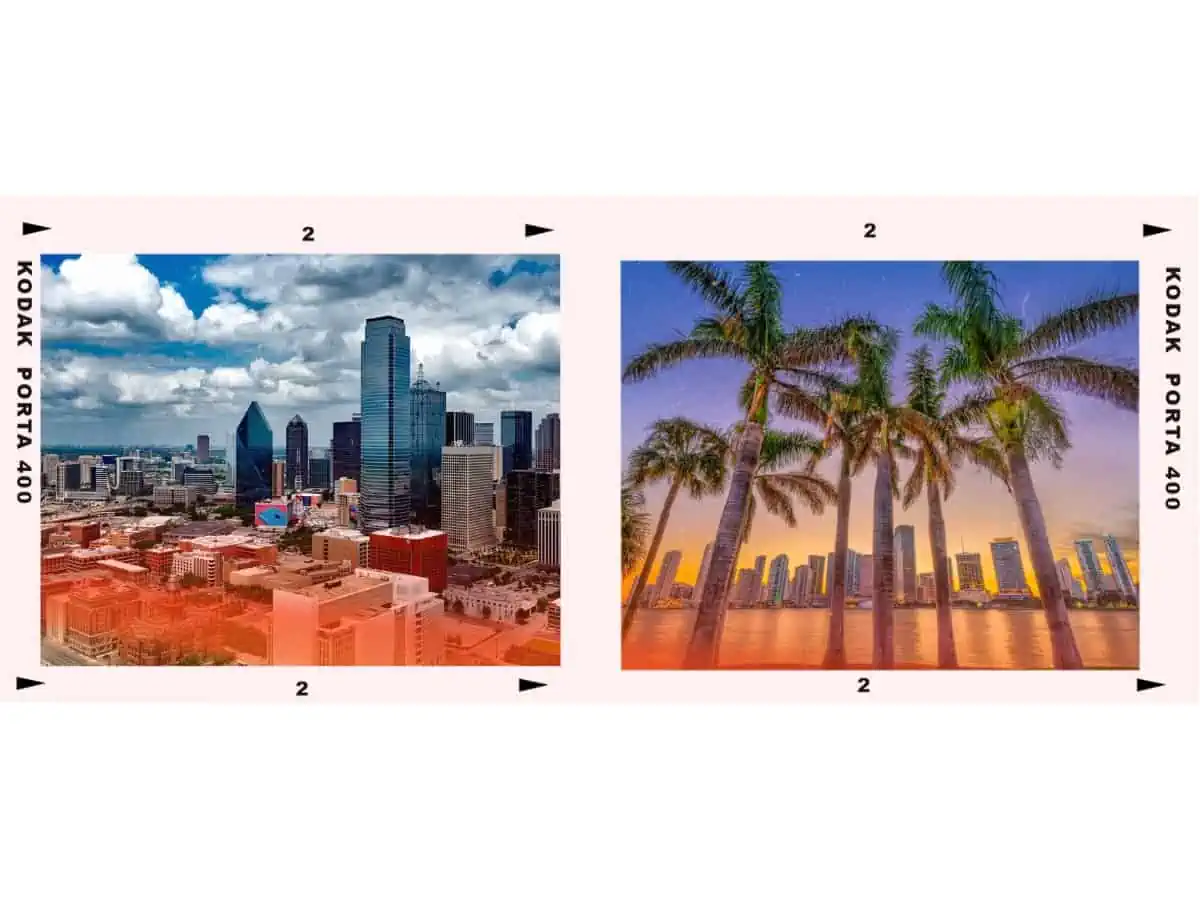 Facts About Texas And Florida
Texas is in the South-Central region of the United States and is 2nd only to Alaska in area and population to California. In contrast, Florida borders the Atlantic Ocean and the Gulf of Mexico.
Comparatively, Texas encompasses large portions of rural areas and smaller towns, equating to a far lower population density. Moving to Texas allows new residents to choose a large city dwelling or a low-key town environment.
| | | |
| --- | --- | --- |
| | Texas | Florida |
| Total Area in sq mi | 268,596 | 66,758 |
| Land in sq mi | 261,232 | 53,625 |
| Water in sq mi | 7,365 | 12,133 |
| Population Total | 29,145,505 | 22,244,823 |
| Area Rank U.S. | 2nd | 22nd |
| Population Ranking in the U.S. | 2nd | 3rd |
| Population Density in sq mi | 114 | 414.8 |
| Population Density Ranking U.S. | 26th | 8th |
| Median Household Income | $64,034 | 57,700 |
| Income Rank Ranking U.S. | 22nd | 34th |
| Official Languages | English 64.9% Spanish 28.8% Other 6.3% | English 67%, Spanish 21.2%, Other 11.5% |
| Highest Elevation | 8,751 | 100ft |
| Capital City | Austin | Tallahassee |
| Largest City | Houston | Jacksonville |
| Largest Metropolitan Area | Dallas-Fort Worth | Miami |
| Time Zone (Majority of State) | UTC-06:00 (Central)Summer (DST) UTC-05:00 (CDT) | UTC-05:00 (Eastern)Summer (DST) UTC-04:00 (EDT) |
| Eastern Border | Louisiana | Atlantic Ocean |
| Northern Border | Oklahoma | Georgia, Alabama |
| Western Border | New Mexico | Alabama |
| Southern Border | Mexican States of Chihuahua, Coahuila, Neuvo Leon, Tamaulpas | Gulf of Mexico |
| Coast Line | Gulf of Mexico to the South East | Gulf of Mexico, Atlantic Ocean |
Texas vs. Florida – Facts

Economic Indicators In Texas And Florida
Both states have strong economies which drive employment opportunities. With no personal tax in Texas or Florida, both states offer attractive relocation options. A downside of living in Texas is the high rate of property tax which offsets the state's lack of income from personal taxation.
What Are The Economic Benefits Of Texas Vs. Florida?
Although cotton, cattle, and timber were the key income drivers in Texas for many years, the discovery of oil in the region has driven an economic boom. Texas now houses 53 Fortune 500 companies, which position it as having the most in the United States.
The industry continues to boom in Texas and has grown to include technology, agriculture, energy, aerospace, and biomedical sciences. An impressive advantage of the economic development in the area rocketed Texas to the status of 2nd highest gross state product.
Unemployment rates in Texas are on the decline. As of November 2022, they were at 4%; by May 2022, compared to May 2021, Texas had created an additional 250,000 job opportunities. Creating employment remains a priority in Texas, and many businesses focus on further training and up-skilling their staff.
Florida also has a flourishing economy and has the 4th largest gross state production. The economy in Florida is primarily based on tourism; however, the state has experienced a considerable economic growth spurt with industry and construction, healthcare research, and aeronautical advancements.
Unemployment in Florida is lower than the national average and sits at 2%.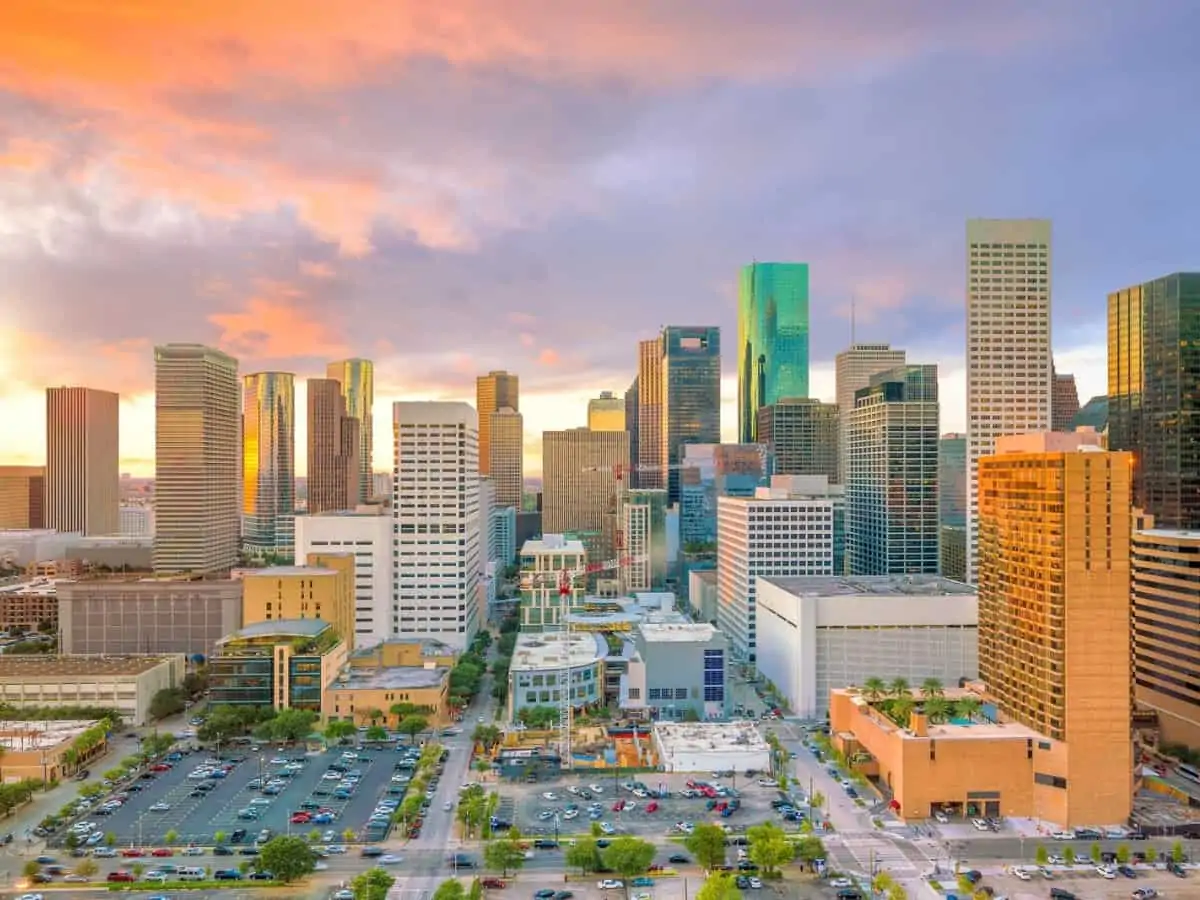 What Does It Cost To Live In Texas Vs. Florida?
The cost of living in Texas is considerably lower than in Florida. However, annual household income trumps Texas. Texas is one of the least expensive states to live in, and compared to Florida, it is 8% cheaper. The only downside to living in Texas is the property tax and slightly higher utility costs.
House prices in Texas and Florida are lower than the average in the United States. Still, houses in Texas lag on average $45,000 below Texas, which makes renting or buying a home a great drawcard for living in Texas.
Interestingly the property appreciation in Florida is at 29.67%, tracked from April 2021 to April 2022, compared to 24.58% in Texas.
| | | |
| --- | --- | --- |
| Category | Texas | Florida |
| Annual Cost of Living | $61,975 | $69,40 |
| Median Household Income | $64,034 | $57,700 |
| Income Rank Ranking U.S. | 22nd | 34th |
| Cost of Housing | $11,243 | $14,875 |
| Median House Price | $172,500 | $215,300 |
| Utilities | $4,472 | $4,181 |
| Groceries | $4,786 | $5,596 |
| Transportation | $5,222 | $5,551 |
| Health Care Cost | $5,169 | $5,343 |
| Property Tax | 1.80% | 0.89% |
Cost of Living – Texas Vs. Florida
How Does The Climate In Texas Compare To Florida?
Weather and climate are key factors when moving, particularly across states. Texas and Florida are known to be warm states, and both have high humidity levels, particularly in the coastal areas.
The vastness of Texas means that temperatures can vary considerably, particularly during the winter months. Some areas further north and in the Texas panhandle experience snow and cold winter conditions. This state offers newcomers a choice of weather and climate options.
The downside of living in Texas is the tornadoes that strike the region; the state ranks highest on the tornado scale, statistically 139 annually.
Hurricanes have plagued Florida with devastating effects. Florida is the only state, barring Hawaii, with a tropical climate in areas closer to the coast. Its climate is generally regarded as subtropical in the rest of the state.
How Do Education Facilities Compare In Texas vs. Florida?
Both states have ample and diverse education facilities. However, the standard of education in Florida marginally surpasses that of Texas. Florida rates 27th in academic performance and ranks 25th overall. Texas, on the other hand, ranks 28th in both academic performance and overall ranking.
Although Florida rates just above Texas on education scores, school safety is a crucial consideration, particularly for parents. Texas ranks as providing the 11th safest school environment, whereas Florida trails at 24th.
What Are The Transport Options In Texas Vs. Florida?
Texas is a large state, with vast distances to travel between cities. Interstate highways connect the cities, and having a car is advantageous. Conversely, Florida is smaller, but you need a car to get around. Both states have local transport services and several airports.
| | | |
| --- | --- | --- |
| | Texas | Florida |
| Number of Major Airports | 24 | 131 |
| International Airports | 12 | 24 |
| Interstate Routes | 18 | 14 |
National and International Airports and Routes – Texas Vs. Florida
Are There Pros And Cons To Living In Texas Vs Florida?
Both Texas and Florida are appealing states to move to. In addition to evaluating the demographics, climate, economy, and education standards, several other factors come into play when deciding whether to move to Texas or Florida.
Pros Of Living In Texas
Culturally rich state, steeped in history with lots to see and do
Option of living in towns or cities
Well recognized for its food and gastronomic delights
Over 100 parks, many with camping sites
Significant arts community with theatres and resident orchestras, and ballet companies
Family-friendly neighborhoods
Fewer government regulations and less red tape
Cons Of Living In Texas
Limited access to good healthcare
Lengthy distance to travel across the state
High crime in certain areas
The area is home to many bugs, and due to the warm weather, residents often deal with mosquitoes, bees, wasps, and roaches.
Pros Of Living In Florida
Active sports scene with many teams playing in the national leagues
Amusement parks such as Disneyland, Universal Studios, Legoland, and Sea World
Water recreation
Locals have discounted rates for Florida's top attractions.
Cons Of Living In Florida
Low-ranked healthcare facilities
The crime rate is above the national average
Infestations of mosquitoes, termites, roaches, rats, and lizards
The high influx of tourists can cause congestion on beaches and local attractions
FAQs About Texas Vs. Florida
Which State Is Best To Retire To, Texas Or Florida?
Both states are ideal for retirement. Warmer weather and no personal tax make Texas and Florida great choices. However, the cost of living in Florida may be prohibitive to retirees who do not earn a fixed income. Money stretches further in Texas.
Where Are The Best Employment Opportunities, Texas Or Florida?
Texas ranks 12th in the United States in the best place to find employment category, while Florida rates 20th.
References: