Texas ranks second in the nation for the highest number of yearly weddings. Unsurprising, it sits behind Nevada, which consistently takes the number one spot. Las Vegas weddings are not a myth but the primary reason behind the high numbers. But Texas isn't far behind, with 185,455 registered marriages in 2022.
As the second most populous state in the U.S., there are an average of 500 marriages every single day in the Lone Star State. With breathtaking landscapes and world-class cities, you'll struggle to find a better place to get hitched.
But, if you're planning a wedding soon, you'll need to be prepared and understand how to get married in Texas. Here's our step-by-step guide. 
How To Get Married In Texas
Each state in the U.S. has its own set of criteria for couples looking to tie the not. Depending on where you are, there may be different requirements, rules, and processes to qualify you and your other half. In Texas, it's pretty straightforward, but if you haven't done your research, some things are easy to overlook. 
So, to help you prepare for your big day, we've created an easy-to-follow guideline detailing everything you need to know ahead of your wedding. Firstly, let's look at the requirements. After all, there's not much use planning a wedding celebration if you don't meet the necessary criteria. 
Requirements
In order to be allowed to get legally married in Texas, make sure you have the following:
Identification: both members of the couple must have a valid driver's license, passport, military identification card, or birth certificate. Also, they must present their social security numbers and cards.
Age: couples aged 18 years old or above can legally marry without permission. However, couples aged between 16 and 18 are allowed to get married as long as they have official parental consent. Couples under the age of 16 require a court order to gain permission to get married.
Proof of residency: you don't need to be Texas resident to get married there, but you do need to provide information on where you reside. 
Proof of divorce: if either member of the couple was previously married, they must provide proof of divorce. It's also important to note that you can't get married within 30 days of getting divorced unless you have a certified copy of your divorce decree showing that a judge granted you special immunity from the waiting period.
Money: marriage licenses cost money. However, thankfully it'll cost you somewhere between $60 and $85 so this shouldn't be an issue.
Premarital education course: while it's not mandatory, a pre-marital education course is encouraged in Texas. To boot, providing your certificate at the county clerk's office should score you a decent discount on your license.
Once you and your partner fulfill these requirements, you have everything you need to get lawfully hitched in Texas. If that's what you intend to do, here's what the process involves. It's worth noting that the steps are identical for same-sex marriages.
1. Apply For Your Marriage License
The first step in the process is to apply for your marriage license. There is a 72-hour waiting period from the moment you apply for your license to when you're legally allowed to be wed. So, whatever you do, make sure you apply at least 72 hours before the big day.
The only way you can expedite this process is if you're a member of the armed forces or if you're awarded a special dispensation from a judge. In some cases, you can also skip the waiting period if both you and your partner completed pre-marital education courses.
2. Submit Your Information
To apply for your marriage license, you must fill out an application. You can get an application in the county clerk's office but it's typically a lot easier to fill out the form online. Plenty of Texas counties allow you to do this. You can check your county's status on the Texas.gov website.
Fortunately, a Texas marriage license application is relatively straightforward to fill out. Along with the information outlined above, in the "Requirements" section, you may also need to disclose if you pay child support and state that you're not related to your partner.
If you fill out the application online, you'll need to pay a visit to your county clerk's office within three days. Otherwise, your application will be taken out of the database, and you'll have to restart the application process. 
3. Visit The County Clerk's Office
In Texas, it's mandatory to appear at the country clerk's office with your partner before your application can be approved. If you apply online, the information will be logged into the system. But make sure both of you bring the following:
Social security card
Current driver's license (unexpired)
Or your passport
Or a current government-issued ID (unexpired)
Or a copy of your official birth certificate
Or a military ID
If either partner is under the legal age of marriage (18), you'll need to bring a court order for emancipation. At this point, you'll need to fill out paperwork. In general, it's beneficial to have a lawyer with you to help with the process, but it's not mandatory.
Special dispensations are allowed for absent applicants (as long as the absentee is 18 years old or older). In their stead, there must be someone else present with a signed and notarized affidavit from the absentee.
If one or both parties are overseas on military deployment, proxies are permitted to complete this step on their behalves. But, they must have proof that one or both are active in military duties.
The final part of this step is to pay the marriage license fees. These can usually be paid in cash or by credit or debit card. As mentioned, the fees may be discounted if both parties completed pre-marital education courses. Couples can have fees waived entirely if either is an active military member deployed in a hostile zone.
4. Receive Your License
After filling out the paperwork, paying the fees, and providing all the necessary documentation, the county clerk worker will process the application. This is normally done on the spot ensuring you walk out of the office with your marriage license in hand.
At this point, it's time to get married. You have full permission from the state to wed your other half. Lately, many county clerk offices have been setting up couples' photo booths where you can snap a quick photograph to remember this special day forever. If this is a priority, check out what they provide ahead of your visit.
5. Get Married
Now for the fun part: the wedding ceremony. 72 hours after receiving your marriage license, you're permitted to be wed. It's also important to note that you must get married within 90 days of receiving the license. Otherwise, it expires and you'll have to restart the entire application process.
If your wedding plans are affected for some reason, there's no issue in reapplying for your license at a later date. There are no penalties for letting your license expire. Although, you will have to pay the fee again. There are, however, fines and misdemeanors for getting married after the license has expired.
Texas marriage licenses may also be valid in other states, allowing you to have your ceremony in another location. If this is something you want to do, contact and out of state officiate to get the process started. But remember, your license will still be filed in the county and state that you applied through.
Weddings must be officiated by authorized wedding officiants in the state of Texas. This includes judges (retired or current), priests, ordained or licensed Christian ministers, rabbis, and authorized officers from other religious organizations. You can have a friend get ordained as a wedding officiant if you wish.
On the day of the wedding, the couple must bring their marriage license as it has to be signed by the officiant. The officiant is responsible for documenting the names of the couple, the date and county where the ceremony takes place, and signing it as the authorized officiant of the event.
Although this step only takes a few minutes, it's essential and technically, the most important part of the process. If you use an experienced officiant, they'll likely do this without even asking. In most cases, having an experienced officiant for your big day makes things run smoothly.
Aside from the mandatories, couples are free to conduct their ceremony and celebrations however they please. There are no rules in Texas regarding how you orchestrate the ceremony so whether you have a large gathering or conduct the proceedings in a courthouse is up to you.
6. Finalize Your Marriage
When the wedding is over, there's one final step to finalize your marriage. You must return the signed license to the county clerk's office. In many cases, the officiant takes care of this but not always. This has to be done within 30 days of the ceremony.
The county clerk receives the license, creates a copy, and files it before sending the original to the newlywed couple. Once this step is completed, you're officially married in the eyes of the state. You don't need to undertake any further responsibilities other than enjoying married life.
Informal Marriage License
In Texas, informal marriages or common law marriages are also allowed. The difference between a regular marriage and a common law marriage is as follows.
A standard marriage is a legal union shared between two people who, following the filing of the documents by the county clerk, are recognized as a married couple in the state of Texas. Common law marriage is a bond between two people who are cohabitant and identify as a couple that's married.
However, with common law marriage, the couple isn't officially married in the eyes of the state. The main reason for getting married under common law is that couples become eligible for spousal and survivor benefits, spousal employer benefits, certain tax breaks, child custody, and other benefits.
The process for getting an informal marriage license in Texas is straightforward and quite similar to getting a formal one. Here are the key steps.
1. Meet The Minimum Requirements
First and foremost, you must meet the minimum requirements, which include:
Both individuals must be at least 18 years old
Both partners must agree to the marriage
The couple must agree to live together
The couple must agree to represent to others as being married
2. Fill Out The Application Form
Next, you'll need to complete an informal marriage application. In Texas, all counties use the same one. You can find a Texas marriage license application online. The information is mostly the same as a regular marriage license form so you'll just need your basic information, as noted above.
3. Submit The Application In-Person
After completing your application, you'll need to appear in front of the county clerk alongside your partner to get it officially signed off. Make sure to take your IDs with you. This step usually takes a matter of minutes, as long as the county clerk's office isn't too busy.
4. Pay The Fee
To complete the process for your informal marriage license,  you'll need to pay the fee. The fee costs less than a regular marriage license but individual counties set their own prices. Most offices accept cash, credit cards, or debit cards. The clerk will then register your informal marriage and you're free to go.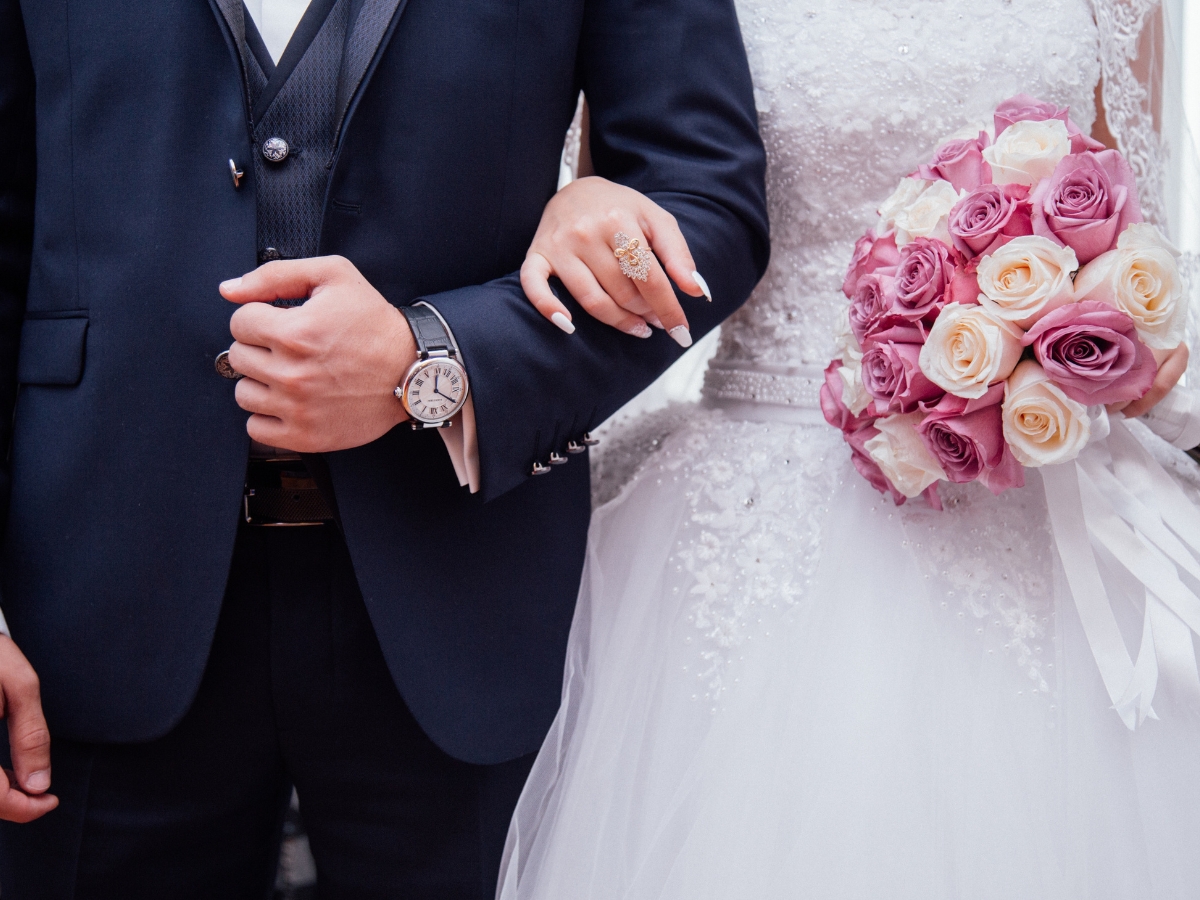 Getting Married In Texas To A Foreigner
In most circumstances, getting married to a foreigner in Texas is straightforward, as long as the non-citizen has all the valid documentation. If the foreigner doesn't yet have a U.S. visa, they will probably have to apply for a K1 visa, also known as the "fiancé visa".
One of the most important things to know about marrying a foreigner in Texas is that it doesn't guarantee citizenship to the U.S. However, the chances of getting citizenship after the wedding (at some point) are quite high. It's generally a good idea to get in touch with an immigration lawyer if you plan to marry a foreigner.
Getting Married In Texas: FAQs
Although the process for getting married in Texas is usually simple and easy to understand, not every situation is identical. There are often unique complications or scenarios that couples are unsure about. So, here are some FAQs that should help clear up common queries.
Do You Need Witnesses To Get Married In Texas?
No. In the state of Texas, witnesses aren't required.
Can You Get Married Without A Marriage License In Texas?
No. Marriage licenses are required in Texas for regular and common-law marriages.
How Long Does It Take To Get A Marriage License In Texas?
Provided you have all the necessary information at hand, you can get your marriage license within a few hours, but you're not permitted to host the ceremony until 72 hours after you receive it. 
Can A Notary Officiate A Wedding In Texas?
No. Texas does not permit notaries to officiate weddings. 
References